I'm going into my fourth week in London now. I'm back to the same working pattern I'm used to five months ago. Everything seems to be going well so far. Well, not everything (I'd be lying if I'd say so) but I'm trying to look at the positive sides of things. For a start, I've finally found a place that is comfortable enough for me to call it 'home', albeit for 3 months only. But that is still better than my previous weeks changing accommodations from a temporary and ultra expensive studio apartment (at least to my budget that is) to over a week lodging in a cheap (£38 a night) and very basic hotel in Paddington. Yes, cheap hotel – you read it. I've even managed to change rooms 3 times, dragging my one big suitcase and backpack around 5 floors up and down like every 3 days. That's what happens when your mind is unsettled and making what is supposed to be an easy decision such as choosing a flat suddenly seems too big of a decision to make. But then, I've found that I love making last-minute random decisions. It takes me directly to my last travels in India, where things weren't planned until we got there. I loved moving from one place to another. There's some sense of adventure in it (who wouldn't have thought of that?..weirdo). Despite that, I've had to remind myself that I'm not in the middle of my travels anymore. This is real life, real things. Get on with it!
With another temporary flat secured and myself settling in fairly well at the workplace, I've decided to expand my wardrobe that will include other creature comforts (such as more clothes and pillow?). So I've decided to pick up some stuff from the storage I've been renting near Latimer Road.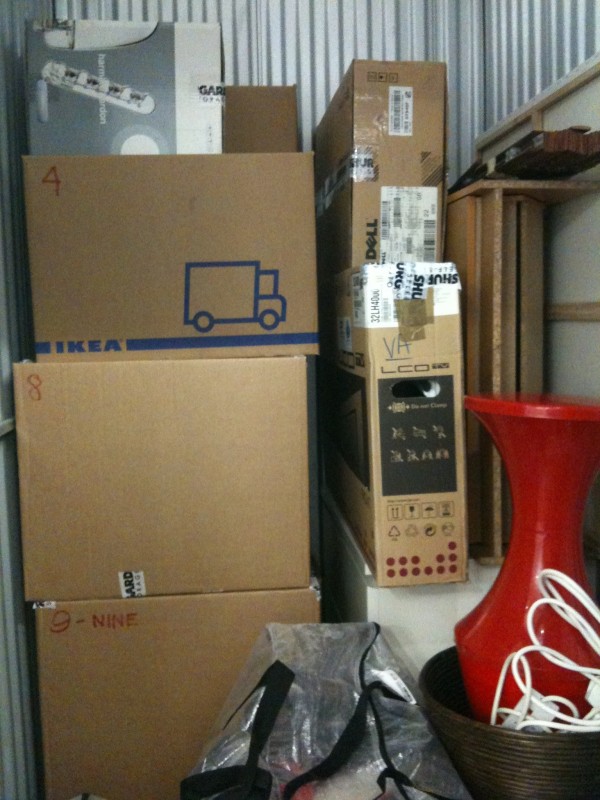 Look at those stuff piling high, I can't even fit in the bottom bit in the photo..
When most people would be happy to be reunited with their personal items, I felt otherwise. Well not that anything bad had happened, but I was shock to see how much item I've amassed within 5 years of working in London. Double the stuff, 5 months ago. Yes, despite seeing a lot of stuff in my storage, it would've been more had I've not thrown out half of the stuff beforehand. I've managed to go through the boxes only to find stuff I don't remember ever existed. There were boxes of clothes, books and also a large box of shoes. I never realised that I had something like 15 pairs of shoes. That's too many. I've only used a pair of shoe for the past 5 months! I will need to sort this out soon (throw away maybe?)..And the clothes, lets say I only need 6 pair of work shirts rather than 20 of them. And then there are the books. Never realised I've had that many too. Never remembered reading any of them (oh well maybe 3 or 4 books).
Then there is a box full of die-cast metal planes and small souvenirs I've been collecting throughout the years. I love planes and there's no doubt about it, but I feel I do not need to build my own mini airport filled with 1:400 plane models to make me feel good (though I've always dreamt of designing one, one day). Add to that my collection of souvenirs I've felt guilty of disposing. Souvenirs tend to make me confuse. Throwing it away will eliminate the some of the problems I'm facing (i.e. space and mobility), but throwing it away may not seem to be the best idea either.
Travel has definitely made me aware of how insecure I've been living this normal life (like you and me I guess). This same insecurity that has made me accumulate so much 'junk' that I don't really need especially when moving from one place to another. I feel that material wealth does not do much for me (at least for now), but rather the experience I've gained that counts the most. I've realised that I do not need stuff other people has. A 32″ flat screen tv included.
There aren't many possessions you can keep throughout your life, but the experience you've gained from travelling remains with you forever (or at least that's what I'd like to think).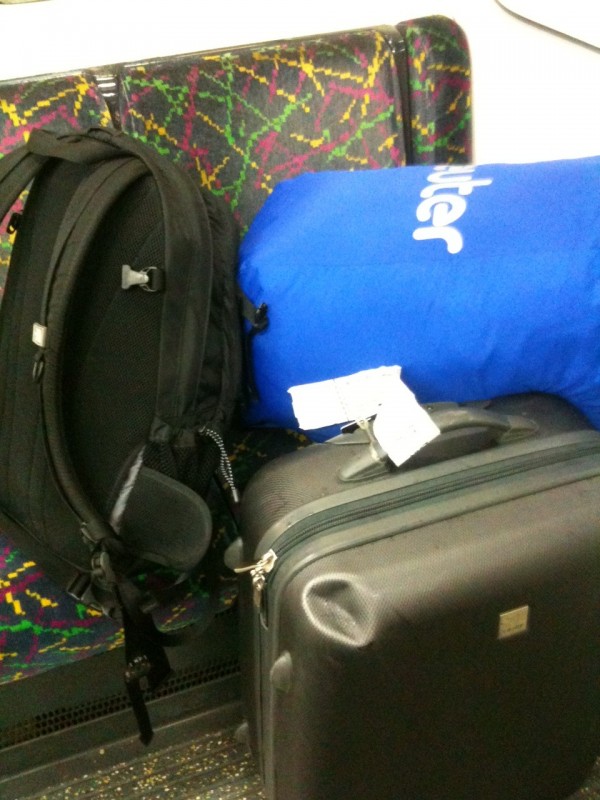 My small backpack, a deuter rain cover-converted-into-a-bag plus a dented worn out suitcase
So here I am on the tube with some stuff brought back from the storage to be used again. I think this is all I need to live comfortably in London. Yup, everything in these bags. There's a luggage full of shirts, t-shirts, socks, a pillow and 2 pair of shoes. Then there's a bag containing outerwear and a set of hangers to hang work clothes with. Whilst the blue bag contains a set of good quality duvet which is always nice to have. That's pretty much all I need.
I can't imagine how my little travel adventures changes the way I've perceived life generally. Imagine if I'm travelling indefinitely on a round the world trip? Surely I'll learn a lot more. But for now, simplifying feels great.
What aspect of your daily life does travel affect you most?