When I visited Mumbai a few weeks ago, I've vowed to get back into the habit of sketching whilst admiring the unique architectural landscape. So here goes my first sketch series this year featuring bits and pieces of Mumbai I found interesting. Best of all, its in the largest format this website can showcase. Good enough for you guys to ridicule appreciate the amount of detail I've tried putting in whilst standing in the hustle and bustle of Mumbai's sidewalks. Due to my clearly written and beautiful handwriting dodgy handwriting and grammar I've decided to help you guys decipher what I've written.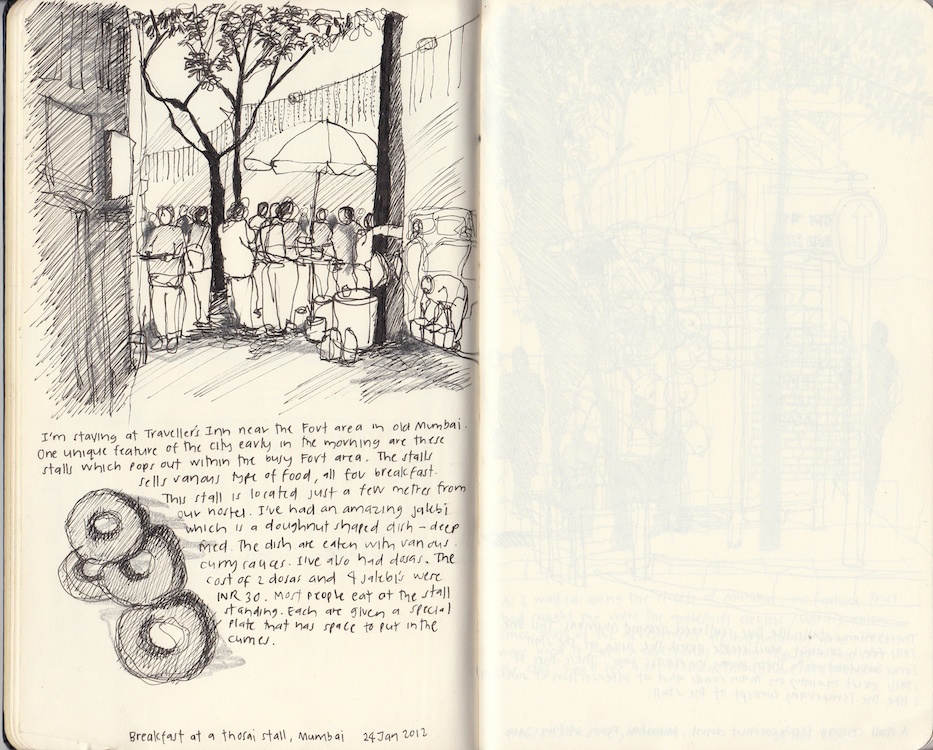 I'm staying at Traveller's Inn near the Fort area in Old Mumbai. One unique feature of the city are the early morning stalls selling various types of food for breakfast. I've had an amazing jalebi which is a doughnut-shaped dish – deep-fried, served with curries. I've also had dosas to accompany my breakfast. The cost of 2 dosas and 4 jalebi's were INR30. Most people eat at the stall standing up just before they continue the journey to work.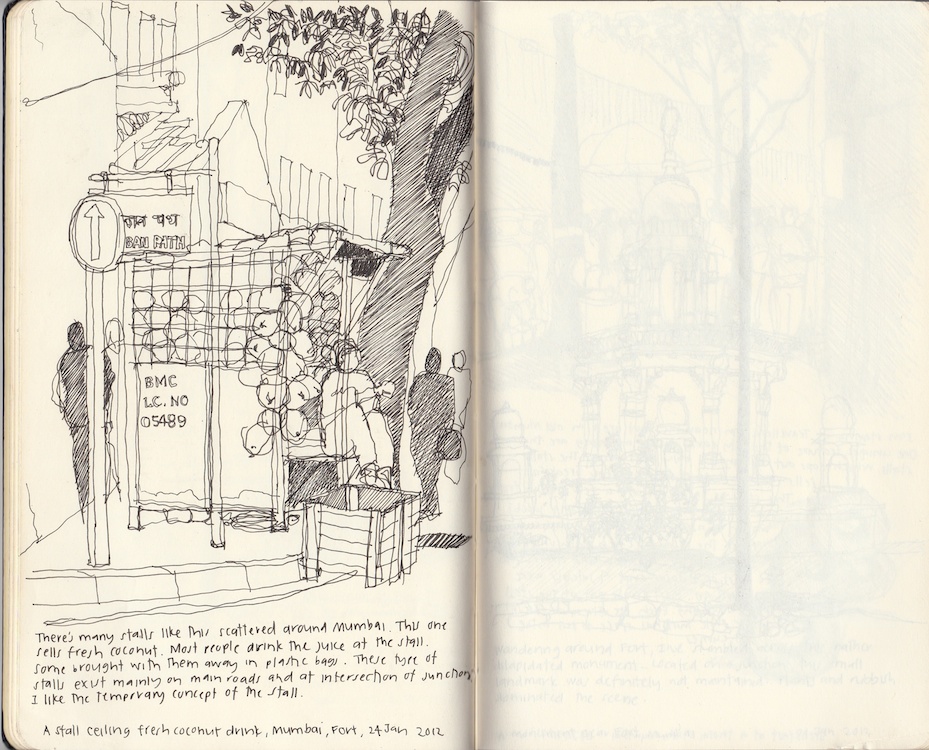 There are many stalls like this scattered around Mumbai. This one sells fresh coconut. Most customers drink their juice at the stall but some chose to bring it with them away in small plastic bags. These stalls could be found on many main roads and at intersections of a junction. I like the temporary nature of the stall.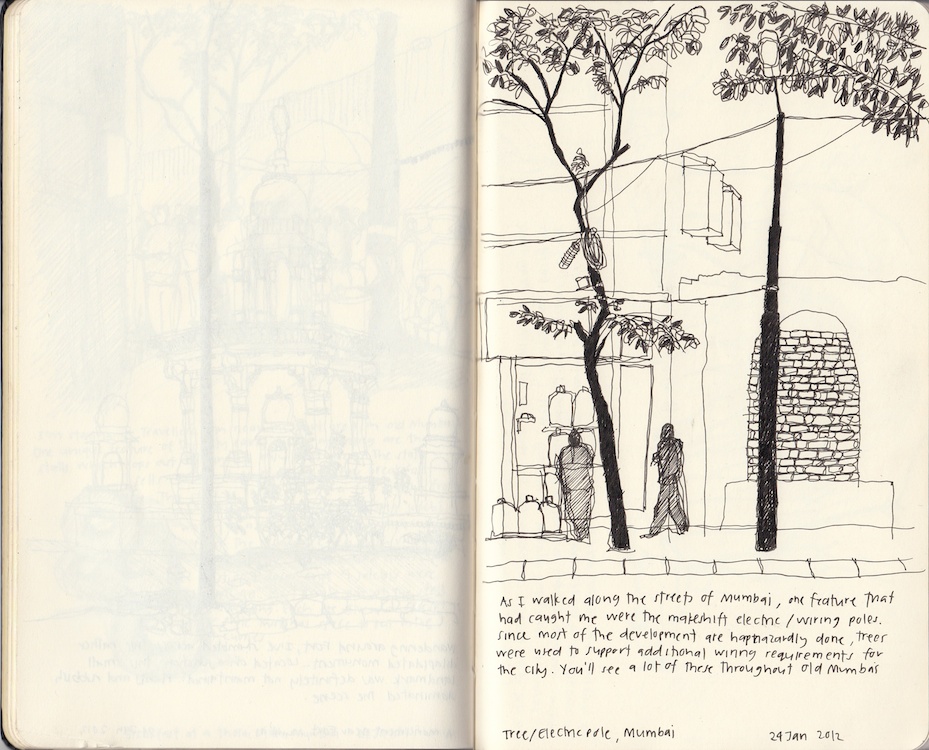 As I walked along the streets of Mumbai, one feature that caught me were the makeshift electric/wiring poles found throughout the city. Since Mumbai developed organically in a haphazardly way, trees are often used to support additional wiring requirements of the city. You'll find most of this throughout Old Mumbai.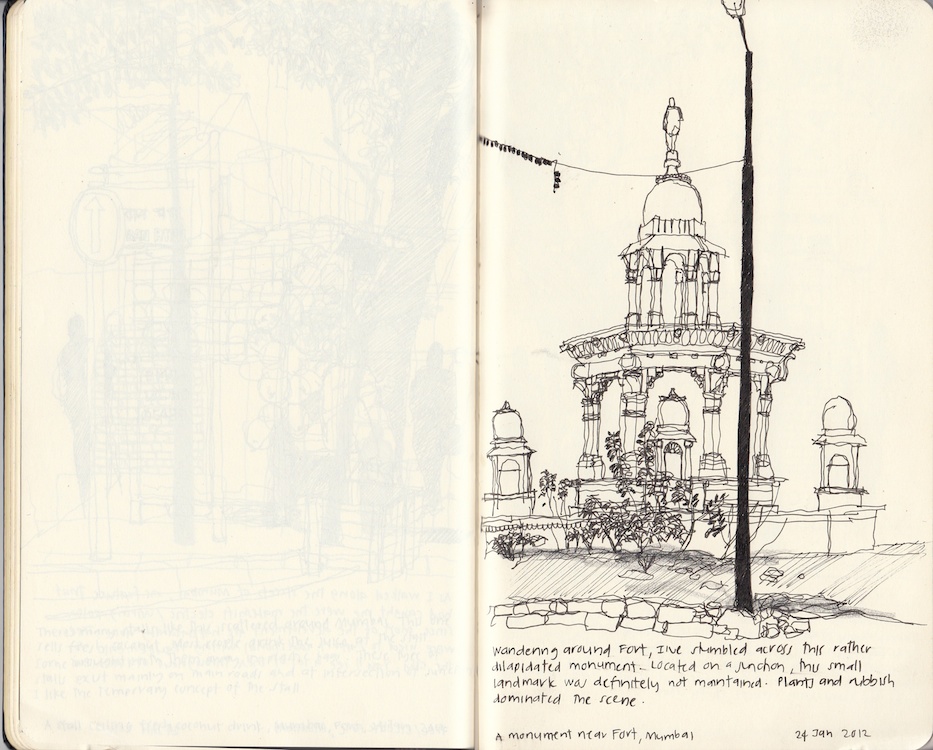 Wandering around Fort, I've stumbled across this rather dilapidated monument. Located on a busy junction, this small landmark was definitely not maintained. Outgrown plants and piles of rubbish dominated the scene (sounds like a crime scene innit)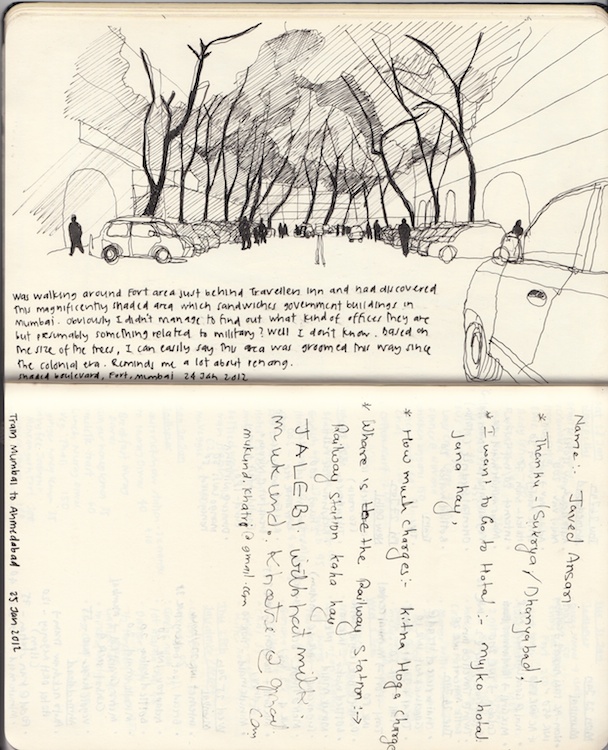 I was walking around the Fort area just behind Traveller's Inn and had discovered this magnificently shaded area which sandwiches government buildings in Mumbai. Obviously I was lazy enough to figure out what buildings it was, but I am presuming they are military offices. Based on the size of the trees, I can only presume this area was 'groomed' during the colonial times.
_____________________________________________________________________________________________________
Related Posts
Sarajevo in Sketches 
Visiting London in Sketches
China in Sketches
Jordan in Sketches
Budapest in Sketches