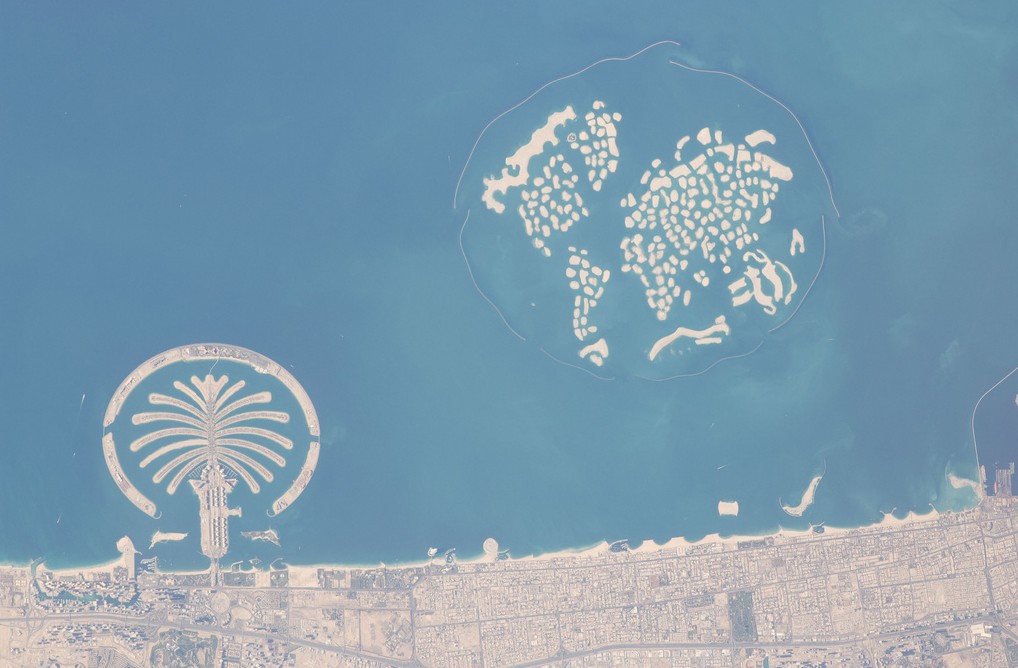 Palm Jumeirah and the World in Dubai. Photo credit NASA's Marshall Space Flight Center
A lot of people asked me of the cities I've visited, which one do I like the most for its architecture. Though this is actually quite hard to list down, I have attempted to summarise my favourite 5 cities that stood out for me for its modern and contemporary architectural attractions. There are many movements to describe architecture. Each movement describes a stylistic influence when the use of form, technology, materials conforms to a period of time.
According to Wikipedia
"Modern architecture is generally characterized by simplification of form and creation of ornament from the structure and theme of the building".."In a broader sense, modern architecture began at the turn of the 20th century with efforts to reconcile the principles underlying architectural design with rapid technological advancement and the modernization of society"
Meanwhile "Contemporary architecture is basically present time architecture"
1. London
You may think that I'm really biased to include London on the top of my list. After all, this is the city I've been calling home for the past 5 years. London is unparalleled to any other great city in the world (say maybe apart from New York) for its great wealth of amazing architectural icons. Out of all the cities I've visited so far, London has the best attractions of both new and old architecture. London's history, economic prowess and status as a cultural melting pot all contributed to the diversity of its modern architecture. There are many great buildings I love that could be found in London. Among them includes 31 St Mary's Axe (also known as the Gherkin to Londoners) and the roof of the British Museum by Norman Foster, the high-tech inside out building of Lloyd's of London by Richard Rogers, the Tate Modern redevelopment by Herzog de Meuron and the London Eye by Marks Barfield. Obviously all of the icons I've mentioned are large-scale buildings that is easily recognisable once you've visited the city.
Before I came to the UK, Lord Foster's Gherkin used to be my favourite London icon. I remembered clearly the first time I was looking at the photo of the building, admiring its bold form amidst a highly traditional background of the Tower Bridge and the Tower of London. It was and still is one of my favourite skyscrapers today. However, my favourite architectural icon goes to the London Eye. How intelligent was it to erect a huge and innovatively designed ferris wheel in the heart of the city. Designed by Marks Barfield, the Eye did for London what Eiffel Tower did to Paris, creating a modern iconic symbol for a great city. London has always been at the forefront of architectural creativity and the London Eye bears testament to this. If you're visiting London, make sure to ride the wheel!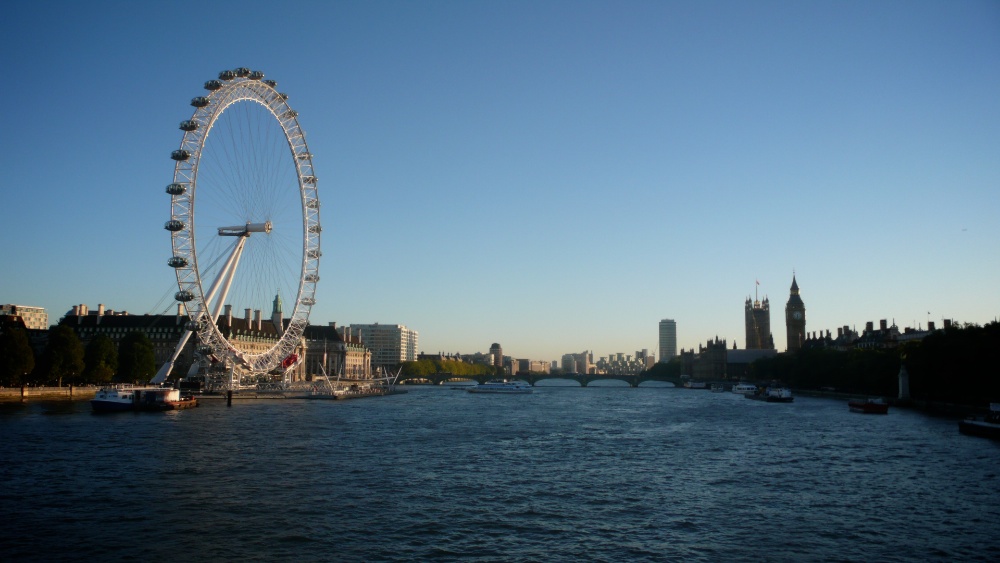 2. Paris
In a close second is Paris.  If this was an article about great architecture generally, I might have given Paris the top spot – who wouldn't give it to arguably the world's most beautiful city? Paris has been at the forefront for contemporary architecture for years until the shift of development progressing to the East, particularly the Middle East and China. Despite that, the city boast a number of great buildings worth visiting. Among them includes Centre Pompidou by Richard Rogers and Renzo Piano, Arche de la Defense by von Spreckelsen and Paul Andreu, the Pyramide du Louvre by I.M. Pei and Arab Institute by Jean Nouvel to name a few.
Out of all this buildings, my favourite Parisian building is Lord Rogers / Piano's – Centre Pompidou. The Pompidou was first conceived as an architectural competition back in 1971 when the architects won. This building is a great example of high-tech architecture. The building was designed as 'inside out' meaning that most of the building core services are placed on the outer side instead of the traditional inside. Initially the tubes and the pipes were colour coded but has been recently painted all white to go with time. What I love most about the building is the public spaces created around it. There is a huge piazza in front and smaller squares complete with modern water sculptures on the side. What a great idea it was to do this, allowing architects and admirers like me to relax and marvel at the amazing facade.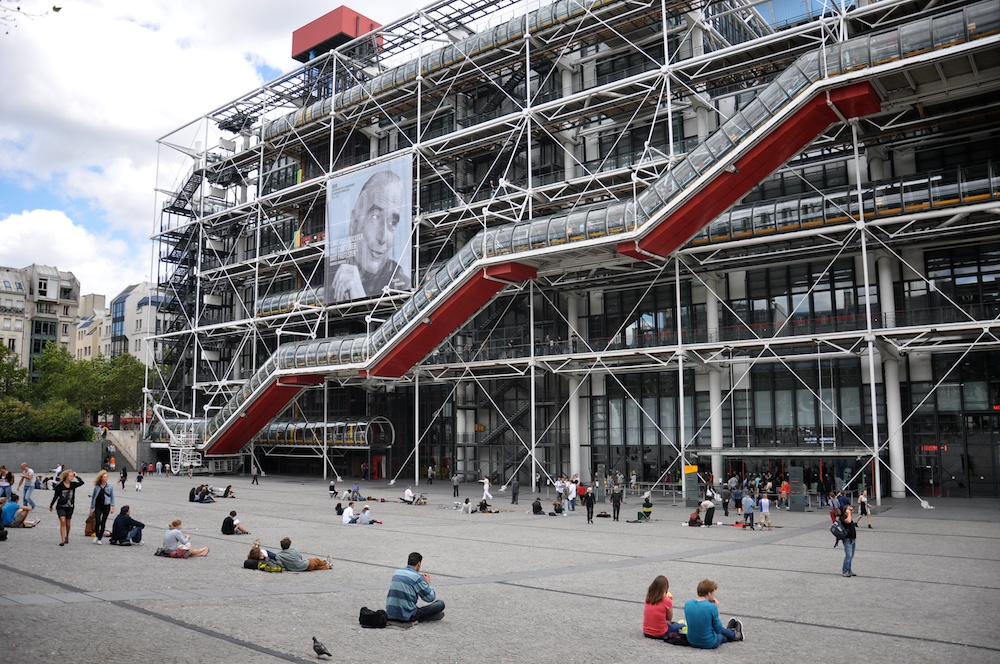 Richard Rogers Centre Pompidou in Paris has an amazing public realm in front of the building
3. Barcelona
Barcelona is home to many great buildings. The greatest architectural influence that has shaped Barcelona at one point is none other than Gaudi himself. Gaudi is the father of Art Nouveau having built many remarkable icons such as the Sagrada Familia and La Pedrera and Casa Battlo. Despite its non-modern style of architecture, Gaudi's buildings are modern in the use of its colour and imagination. However the city is also home to innovative architecture. One of the greatest modern architecture to come out of Barcelona is none other than Mies Van der Rohe's Barcelona Pavilion. Truly a great example of Modernist architecture. Other great buildings include Santiago Calatrava's Olympic Flame, Herzog de Meuron's Forum Building, Enric Miralles's Santa Catarina Market and Frank Gehry's Fish.
Like a lot of people, my favourite building in Barcelona is unquestionably the majestic Sagrada Familia. Whilst a lot has been said about this icon, I am going to focus on another architectural icon that is integral part to the city – the Montjuic Communications Tower by Spanish architect, Santiago Calatrava. When you think of Calatrava's work, you'll think about beautifully crafted sculptures, exposed ribs-like and technologically advanced. Well, this is another well crafted sculpture created for the Olympic Games in 1992. Instead being filled with ugly antennae dishes, the tower is designed sleekly into an odd but imaginative shape of a human bearing the Olympic flame. Apparently the tower also works as a sundial! Genius!
The Calatrava Tower by Santiago Calatrava. Photo credit: Viadas M
4. Beijing
I remembered going to Beijing expecting only to be amazed at the super collection of ancient architecture. From Temple of Heaven to the Forbidden City to the Drum and Bell Towers. Beijing's collection of historic buildings is remarkable to say the least. That's why I was surprised to see that the city also boast some of the most striking architectural icons in the world this decade. My amazement started with Beijing's main point of entry – the large and futuristic Beijing Airport Terminal 3 by Norman Foster. You need to experience the space in order to appreciate the architecture. The terminal's gigantic size felt incredibly right to complement China's even larger ancient monuments and its leap into economic stardom. Another modern architectural wonder is the Olympic Stadium dubbed the 'Bird's Nest by Herzog de Meuron. This is by far my favourite designed stadium and is definitely in my list of great buildings. Despite 3 years removed from the Beijing Olympics, the Birds Nest has become a huge tourist attraction until today. Other buildings include the fantastical CCTV building by OMA, the Linked Hybrid apartments by Steven Holl and the 'Egg' or Beijing Theatre by Paul Andreu.
It is hard to picked which is my favourite building in Beijing. My fascination with skyscrapers has allowed me to list down the CCTV building as my favourite Chinese icon. Who would've thought you could construct a building as futuristic as this? This icon is probably one of the greatest architectural design ever seen for quite a long time. Never short of a controversy, the building form has been criticised by many amongst others by a Chinese critic saying that the form represents a pornographic image of a women on her hands and knees! Designed by Rem Koolhaas of OMA, this structure is eloquently designed showcasing China shifting into a new era of global stardom. What I love most about the building is the different views it generates when you're in different parts of the city. This is the first skyscraper I know being able to do so very effectively. It gives Beijing an innovative and futuristic skyline memorable to everyone.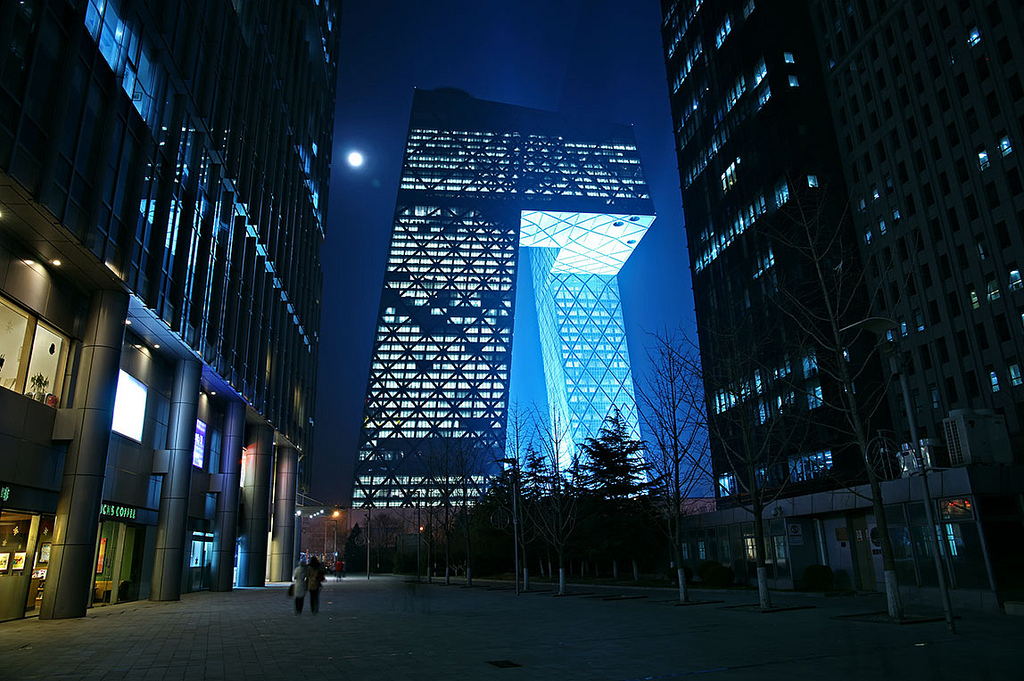 China Central Television or CCTV Building by Office for Metropolitan Architecture (OMA). Photo credit rude noon
5. Dubai
Oh wow..that was the first thing that came out of my mouth the first time I step on the soil of Dubai. Dubai is absolutely crazy. Magnificently crazy. This is the place where out of this world projects had initiated and been realised. Dubai is synonymous with the term mega projects, contemporary and futuristic architecture. It all started with the superb Palm Jumeirah, a mega man-made island project filled with luxurious accommodation. Dubai then constructed an even larger island, appropriately named as The World. The list of architectural wonders doesn't stop there. Dubai is home to the tallest building ever constructed – the 830 metres tall Burj Khalifa. Dubai's 'smaller' gems include the Burj Al-Arab – the world's first 7 star hotel shaped like a sail.
It is not a surprised that my favourite Dubai icon is Burj Khalifa itself. I have always admired tall buildings ever since I was a kid – probably when I was 7. Yes it may sound crazy, when my peers was into toys I was into skyscrapers and planes. Growing up in a fast developing country back then, skyscraper was the sign of development and progress. The first time I saw Burj Khalifa I was actually sitting on an Emirates plane on its final approach to Dubai. I was shocked to see a piercing high building amidst the sky as the plane was fast approaching Dubai. I knew what I was seeing was a novelty and definitely surreal. I have since visited the building 3 times in the past few years. It's hard for me to imagined that this tower is nearly twice the height of Malaysia's very own Petronas Towers which I thought was super tall already. Oh well, that's the sign of times.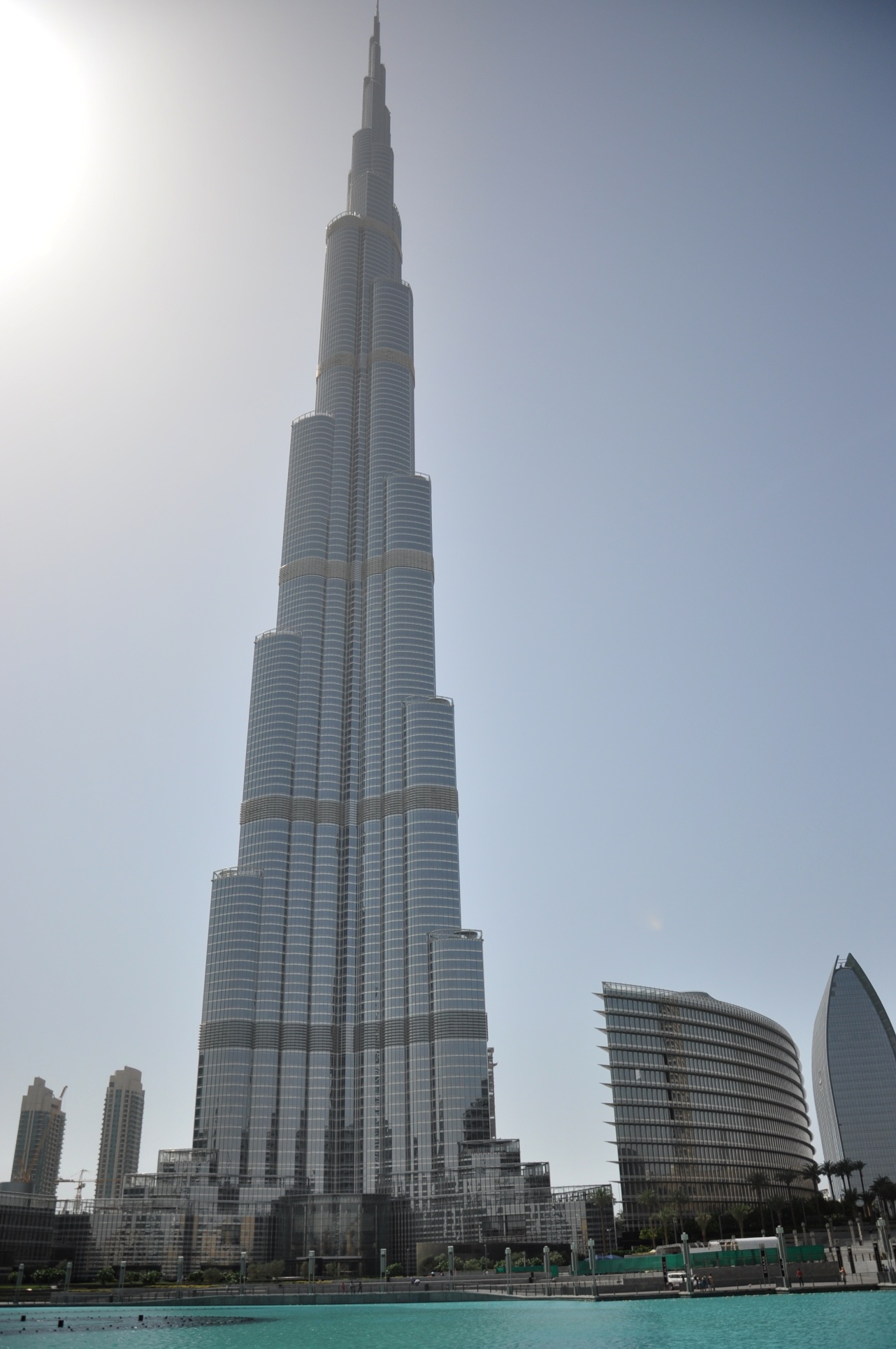 The world's tallest building – The Burj Dubai standing at an astonishing 830 metres tall
Other honourable mentions – Hong Kong and Singapore. I've yet been to any of the American cities (feeling ashamed despite being born there) so they're not included. Obviously this list was generated on my limited knowledge and observation when visiting different cities around the world. I am sure I have missed a lot of buildings in the process, but I thought it would be interesting to share you my thoughts as an architect.
So what are your favourite cities for architecture to visit? What is your favourite building?