On my recent trip to Bosnia, I've had the privilege of visiting Mostar – arguably one of the most beautiful city in the Balkans. The highlight of the trip was obviously to see the Stari Most (Old Bridge), the city's crown jewel. Mostar made headlines during the Bosnian War when the iconic Stari Most collapsed after heavy shelling from the Croats. The collapse brought huge criticism from the international community since it was seen as an act of deliberate cultural property destruction.
The bridge which was built in 1557 by the Ottomans has been a major symbol of the city for hundreds of years. According to some historians, the bridge was a great evidence of shared-cultural heritage from the past 400 years. After the collapse, the worldwide community including UNESCO, the Aga Khan Trust, The World Bank and various other countries joined forces to rebuild the bridge. The reconstruction which began in 2001 was completed in July 2004.
Upon approaching the Old Bridge, I was  greeted by a number of small souvenir stalls, cafes and art shops. This was the first glimpse of the bridge. At the rear of the photo lies the hill which was the frontline for the Bosnian Croat military.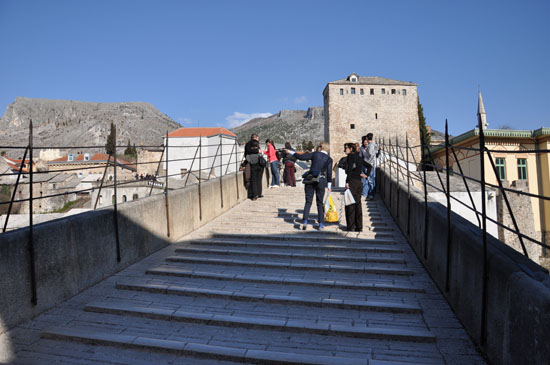 This is actually the steps of the Old Bridge. Well, not actually a real step. As you can see it's pedestrian-only. At the end of the bridge lies the Mostar Diving Club. For a certain fee you can request one of the professional members to jump off from the bridge. Though I didn't ask them how much it actually cost.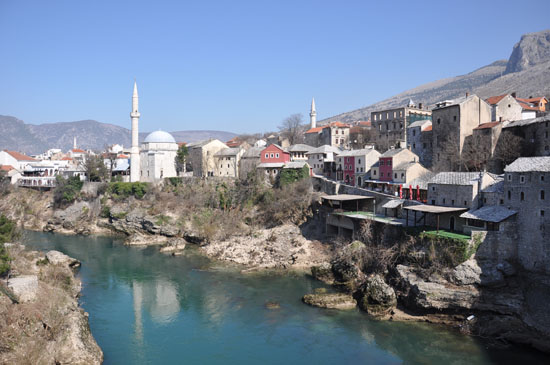 This is the view of the incredibly beautiful Neretva River from Stari Most, overlooking the Old Town and Koski Mehmed Pasha Mosque. The water is so green, it just stands out on its own.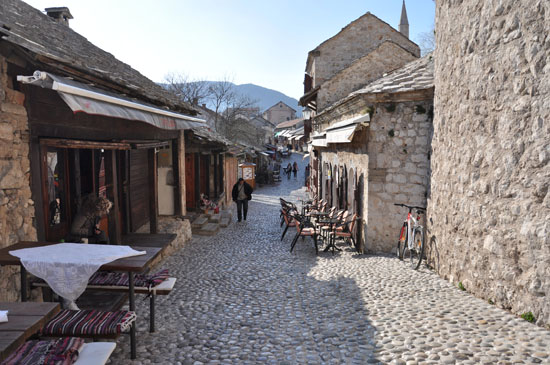 A few steps away from the bridge lies the cobbled street of the Old Town. A number of outdoor cafes and souvenir shops dotted along this UNESCO World Heritage site.
I tried to get as close as possible to the emerald-green water. There were some locals seen trying their luck on fishing. This is also a great spot to relax and enjoy the gushing sound of water.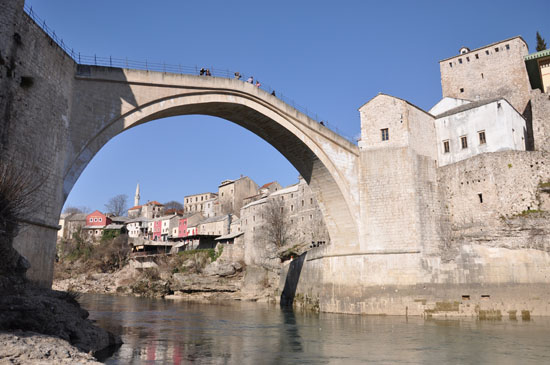 Not to mention a different perspective of the bridge.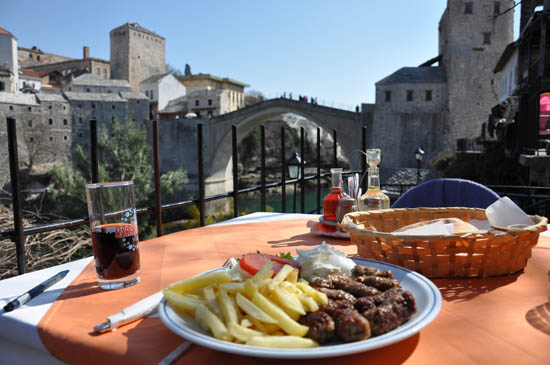 I love the view so much that I've decided to find a restaurant with a view. This restaurant is called Babilon and it definitely has one of the if not the best view of Stari Most. Of course a dose of local cevapcici with kajmak wouldn't hurt.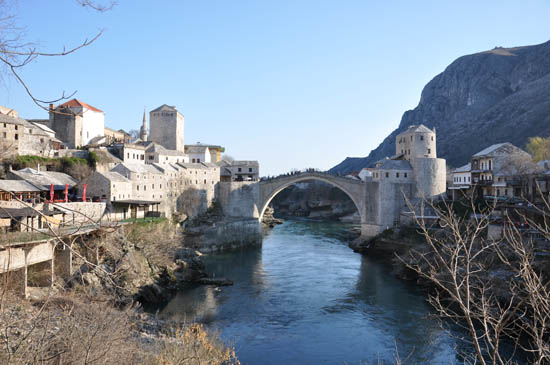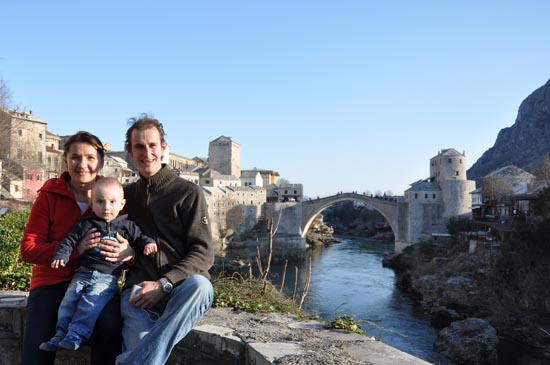 I've then decided to wander around the old town searching for more spots to catch the great view. I've also managed to strike up conversations with many locals along the way, just like the photo above with Tungia, Medina and their son Anel. Next time if you plan to visit the Balkans, why not spend a day or two in this beautiful city.
—————————————————————————————————————–