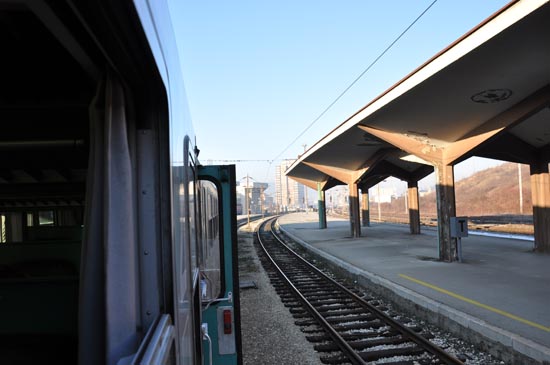 I've always wanted to go to Mostar. Like Sarajevo, the small town was made famous when the Stari Most Bridge were bombed by the Croats during the 93′ Bosnian War. There are 2 ways to get there. The first being a regular bus service that leaves a few times a day from Sarajevo whilst the second is the train service which operates one in the morning and another at night. Ofcourse, who wouldn't choose the train ride?
I love train rides. Living literally next to London Paddington station, I've seen too many intercity trains departing the station, always dreaming that I'll be on that train wherever it goes. Enough daydreaming, having missed the train the previous day by 15 minutes, I cannot afford to extend my stay in Sarajevo. So I've decided to wake up at 5:45am just to make sure I'll reach the station on time. The Mostar-bound train leaves Sarajevo station daily at 7am.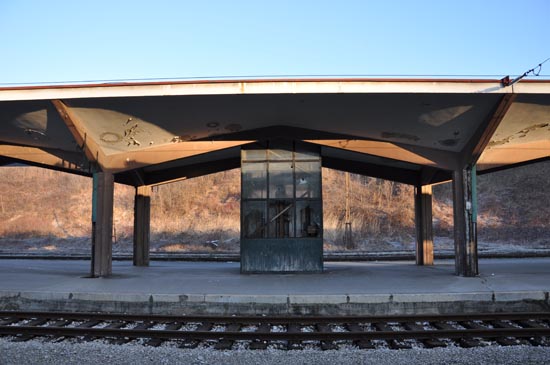 I left the hotel around 6:30am using a pre-booked service offered by Kandilj. After being overcharged by the taxi driver, I've arrived at the station 20 minutes before departure. It was Saturday and the queue was surprisingly very short. It's quite easy to get a ticket. The agent speaks some English and there is a flat fare of 10KM for a one way journey. That's pretty cheap since it is a 2 and a half hours journey. Sarajevo station is quite big for such a small city. Despite the size, there aren't many trains and the platform looks a bit derelict.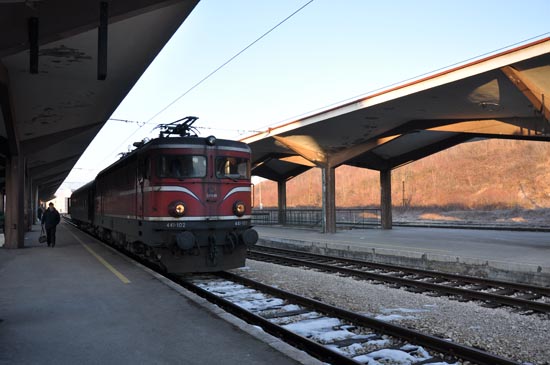 The station is pretty much neglected. There was no signage or indication where my train departs. Luckily the ticket agent informed me of the number 3. There was also no announcement of  the departure of the train. Trying not to miss a train, I hurriedly boarded the wrong train heading towards Belgrade before the ticket agent inspected my ticket. Luckily it was only a 2 carriage train and I've found him before finding a seat. As my train finally arrives, I found myself sharing a cabin with a mid-age Bosnian lady.
The train to Mostar was half full. As it was a weekend, there were many school kids doing this trip. The atmosphere was pretty lively with the kids on the other compartments started to sing and enjoying themselves. There were about 4 carriages on this journey. Each carriage has multiple cabins or compartments that could fit 6 people each. I found myself sharing a cabin with a middle-age Bosnian lady.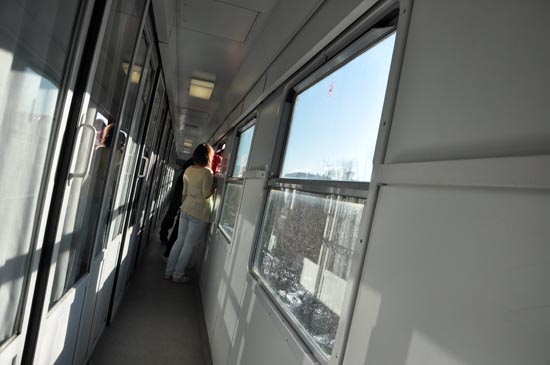 As the train was leaving Sarajevo, I started to enjoy the different scenery of the city. There were a lot of hills with homes sprawling. Though a bit sleepy I was adamant to take as many photos as I could. I left the cabin briefly to start taking photos from the corridor. I wasn't alone. The locals also enjoyed the scenery whilst smoking at the corridor.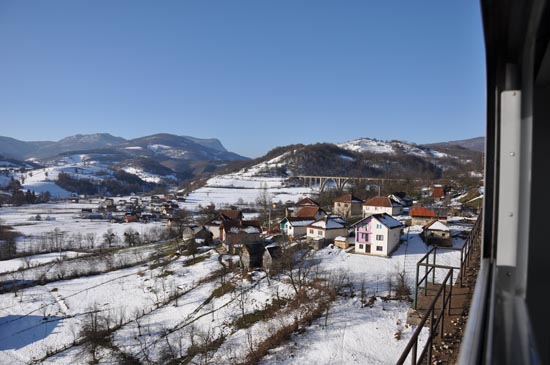 I sat back in my cabin and then started a conversation with this lady about the beautiful scenery. In the beginning she just nodded and smiled. After a few moments we started to engage in a lengthy conversation. Her name was 'Snow'. The journey started to become very interesting. What else can I ask for, I thought to myself. A beautiful train ride accompanied by a friendly local. We started talking about the amazing landscape and how wonderful Sarajevo was.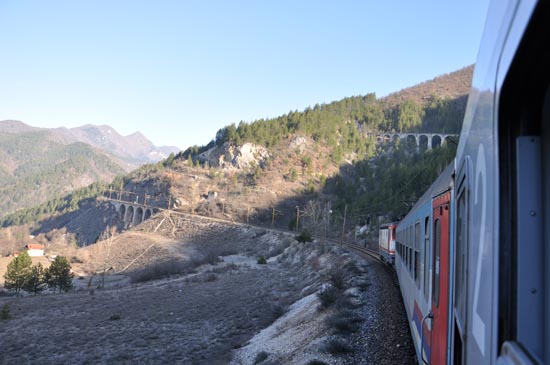 Snow proudly started to show the various icicles 'Look there, there's quite a few of them'. I started to photograph anything she pointed at. 'We're now climbing up the hills through those bridges' she later continued. The train started to climb and cut through the hills through various tunnels. Being a local, Snow knows exactly where to take photos. 'I will tell you when we reached the bridge by Tito, it's really beautiful. This train trip is my favourite alongside the Swiss train journey' she claimed. Snow started to share her numerous trips to Europe.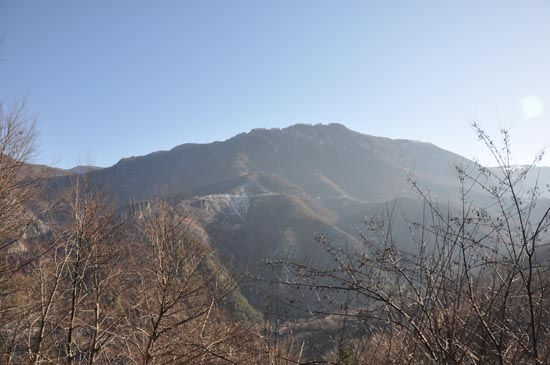 The train snaked its way through small villages and mountainside. There were lots to capture but there were quite a number of tunnels as well. Our conversation then turned into the much admired Tito and how things changed because of the war. 'My dad was shot when he wanted to come home with food' she continued. 'Life was horrible and I fled to Croatia for 2 years' she later claimed. 'After the war things didn't get much better'.
Our conversation delved deeper into the war. I've decided to change the topic to learn more about her life. 'So where are you going today?' I asked. 'Split, to see my friends again. I'm only going there for the weekend but I'm very happy' she continued excitingly. 'How often do you enjoy this wonderful train ride?' I continued. 'This is actually is my first time in more than 20 years but I'm very excited'.
Wow. I thought to myself. Life must be quite hard for her. After all she did mentioned her earnings. Though it was a Sarajevo average it was way too low to survive. Halfway through the ride, the ticket inspector that the train will stop at the next station and all passenger would be transferred to buses. As it was a last-minute announcement, we quickly grab our bags and head off to the bus awaiting.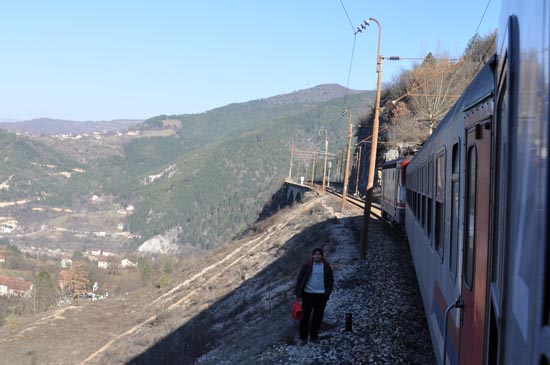 The rail journey was starting to get more beautiful as it was on its way to reach the various lakes, mountains and the crystal clear Neretyeva river. Suddenly everything that started so well begins stop. The rail works halted our conversation and journey halfway. I didn't manage to get a seat on the same bus as Snow and didn't even manage to take a photo of her. Despite that I did enjoy the conversation I've had and did learn a lot about life as a Sarajevan. More importantly I've managed to appreciate all of the little things I've had throughout my young life. If Snow did ever struggle and still be very happy, why can't everyone else be the same?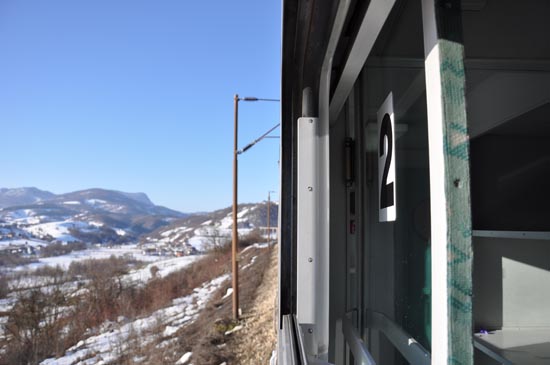 So Snow, if you're ever come across this blog, thank you for the amazing conversation. If only this was a full journey, it'll definitely would be a truly beautiful one.