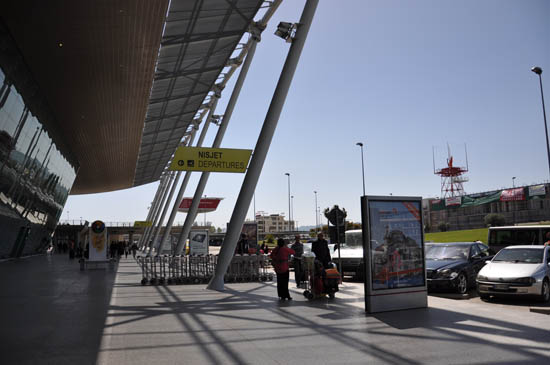 Editor's Note: Due to the worrying email I've received from Albania reporting of Emriko's unusual behaviour taken from this article, I've decided to change the title from it's original – The Acceptable Way to be scammed by a Taxi Driver – Tirana, Albania
I have just landed in Tirana's Mother Teresa Airport, Albania. Having bought the plane ticket merely 10 hours before and definitely without any guide book, I arrived in Tirana totally not knowing what to expect. I've read mix reviews about the country. Some say it's very friendly whilst others say it could be dangerous. I choose to believe the former. After asking a few questions from the one-desk information centre, I found out I've missed the hourly bus by 1 minute. To be exact, it just drove in front of me. It didn't take long before a flock of taxi drivers swarmed me eagerly trying to part my hard-earned cash. I succumbed knowing that money is a bit tight this time. Again, it lasted only 10 minutes.
"to Tirana? For you only €10! get in the car". Ok, having ask at the counter, I know that a taxi ride to the city should cost me €17. Why the hell did this guy offering only €10? There must be a catch I thought to myself. "Can you take me to my hotel" I asked. "Yes, anywhere" the driver continued. Before getting in, I've made sure that the car had an official airport logo which fortunately it did.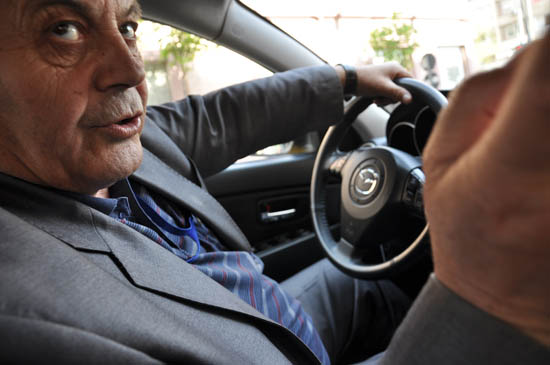 "You pay only €10 okay" he continued. "Yes, there you go". "You pay very cheap, I'm going to see at the departures area if anyone else wants to join. Only 2 minutes" he promised which I hesitantly agreed. Luckily there was no one else and off we drove to the city. The taxi driver introduced himself "My name is Emriko. What is your name? This your first time in Albania?" he asked "Yes it's my first time, and my name is Amer" I replied. After that, we started some conversation regarding Albania, Malaysia, work and purpose of my trip.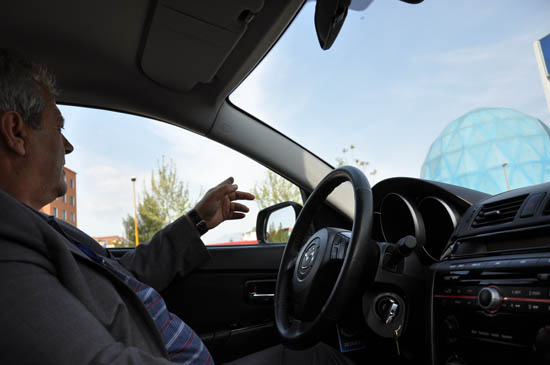 Despite his 'godfather-like appearance' Emriko seems to be a nice guy, I thought to myself. After 15 minutes gauging through the street of Tirana, Emriko suddenly took a right turn onto the side street. "Are we nearer to the hotel?" I asked. "No, I'm going to the car wash". "Ermm..what? car wash? You promised to take me to my hotel" I proclaimed. To be honest again, I was a bit nervous. What happens if he does belong to an organised crime? Maybe I'm gonna be mugged? "Don't worry, I wash my car and we drink coffee" he exclaimed, probably realising that I was a bit shocked. Taking a deep breath I thought it could be ok. Besides it is an official taxi.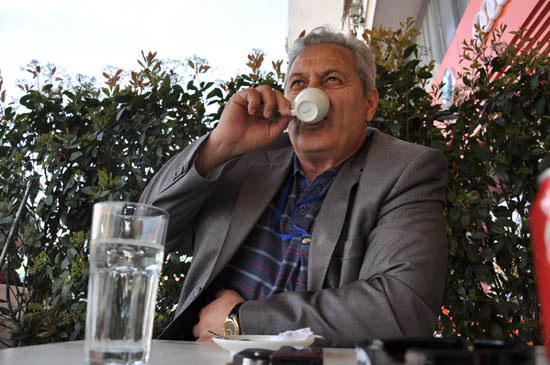 So off we went to have some coffee. Well, I've actually ordered a coke or 'cola' according to Emriko. Unfortunately I'm not really a coffee type of person.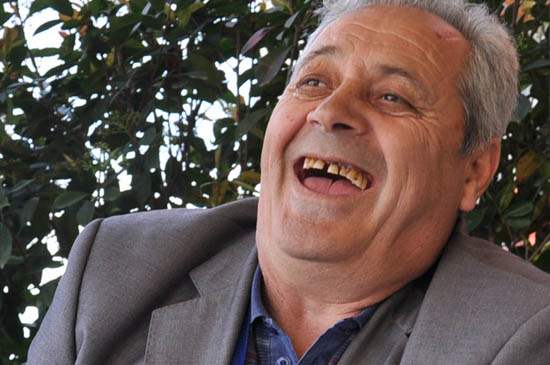 "Albanians are very friendly you know" Emriko claimed. " We treat you like brothers" he continued. "That's very good" I said. "So how often do you take your passengers to a car wash or coffee?" I asked intriguingly. "You are the only one" he laughed. "Not many tourist travelling alone here especially from Asia" he claimed. Great! I thought.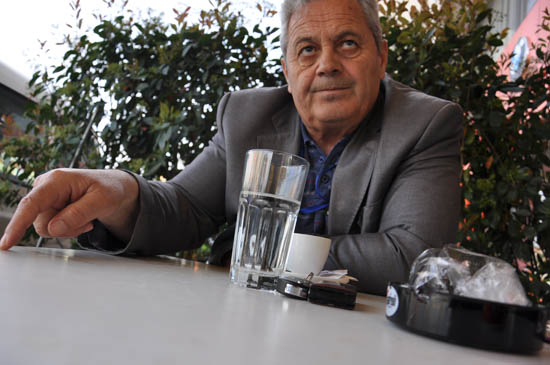 "So are you from Tirana?" I asked. "Yes, I live here with my family. I have a daughter who is studying here. And 2 sons who now works in Germany" he continued. " You know, I've been a taxi driver for a long time – 15 years! Before, I was a lorry driver and a bus driver for another 15 years" Emriko said. "Life here is tough, money is tough. The taxi is not mine but the company. They pay me very cheaply but I'm happy to have work" he claimed.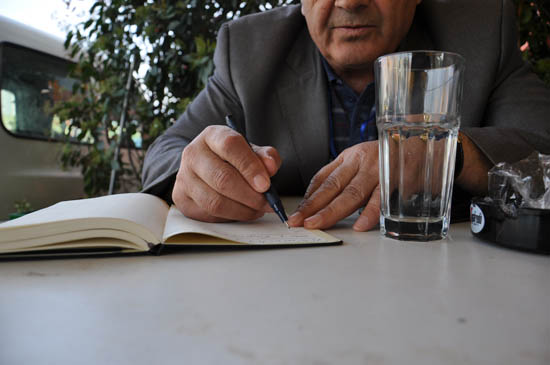 "So Emriko, can you tell me how do you say hello and thank you in Albanian?" I asked. "Sure. Hello is c'kimi, thank you is faleminderit" he replied. I asked him to write that in my Moleskine travel book which he gladly did. This is a new habit I've started to ask people I've met to do.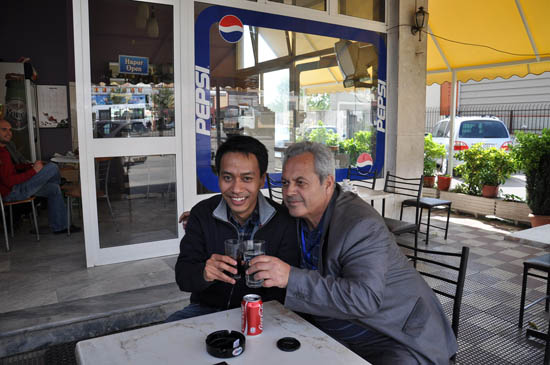 Later we requested a waitress to take photo of us. Obviously, she had a problem of using my new DSLR. Having tried numerous times. This is the best shot we've got. The other picture, I've managed to screw it up by closing my eyes. How I love to screw pictures of myself. When the bill arrived, Emriko insisted he's paying. By this time, I was quite convinced by the Albanian hospitality.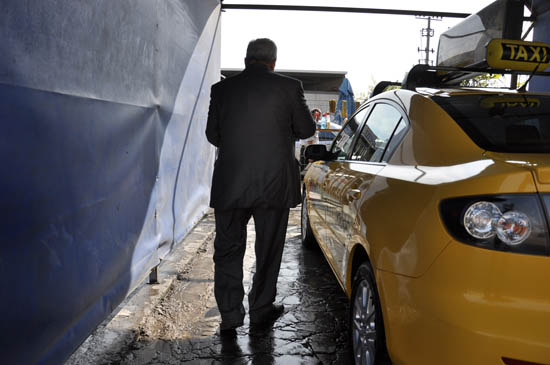 After about 20 minutes at the cafe, we went back to the car wash.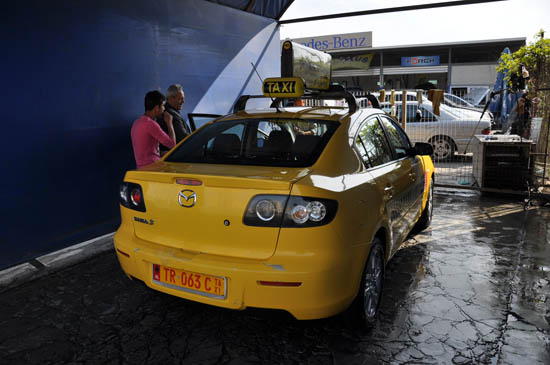 Emriko seemed happy. After fooling around (hitting the boy's head whilst laughing), Emriko invited me back into his new polished car.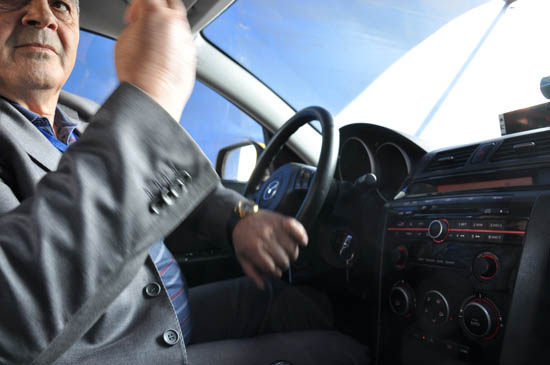 "Can you smell this?It's very good smell" he proudly continued. Yes the taxi did smell very fresh and the car looks fantastically clean.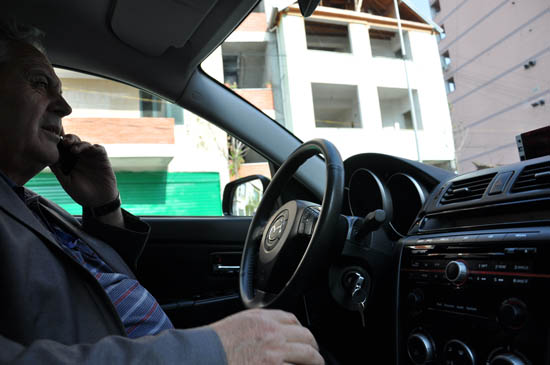 We continued our journey into the city. Emriko managed to make some phone calls whilst driving. If he was in the UK or even Malaysia, police might have already stopped him. But anyway..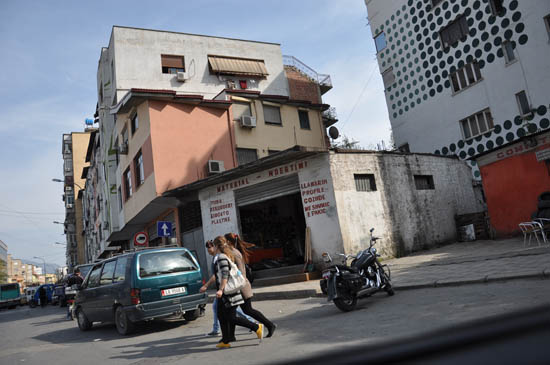 As we got nearer to the hotel "See, Tirana is very modern. There's a lot of bars and nice buildings". To be honest it was kinda modern, not really to Western standards but anyhow quite modern. Most buildings are not well maintained, but the city did a great job of repainting many of them. It looks pretty colourful.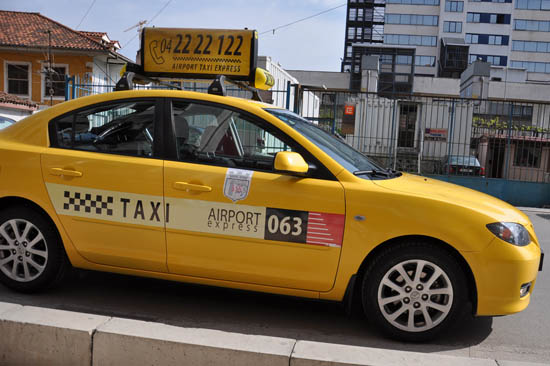 A few minutes later we've arrived at Noble Hotel in Tirana. "Can you give me €5 more?" Emriko cheekily asked me. "Okay, since you've bought me a cola and you're a nice guy, I'll give you €5 extra!". Our journey ended as Emriko tried to get more money from the receptionist insisting he brought a new client to the hotel. Of course that didn't work. I was the only tourist in the hotel for the day. The receptionist also greeted me by name on arrival. It was quite an interesting taxi journey. Though I knew since the beginning that there was going to be a catch. It was good to meet you Emriko. Thank you for the fantastic journey!