I actually stalked Angelina Jolie and Brad Pitt and said Hi! Damascus
by
Amer
on
Mar 5, 2011
•
10:35 am
5 Comments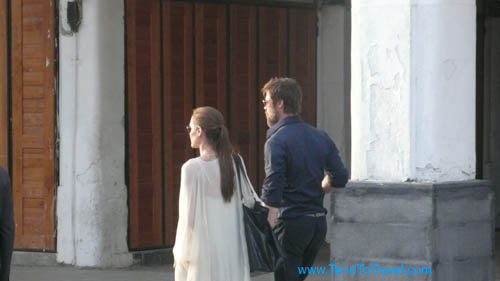 I love travelling. Who doesn't? Travel allows me to learn about different cultures and the magnificent world that we live in. Besides, travel is quite relaxing, enjoyable and super addictive. I gain many different experiences, some are good and some are bad but some are truly memorable.
One of this memorable but weird experience happened during my travels to Damascus. It happened during my last evening, whilst wandering around the Street Called Straight. As I was walking towards the Roman Arch, I saw a small gathering happening around this trendy restaurant. Out of nowhere came this couple with a few people behind walking with them. Looking at the 'bride', I thought it was just a regular western style wedding and so I kept walking. Of course there was a reason why I called the lady a bride. She was wearing a beautiful dress and she looked amazing from a distance.
As I got nearer, I realized it was actually Brad Pitt and Angelina Jolie walking towards me. I was absolutely shocked and my first reaction was saying 'heyya' to them! To my surprise Brad replied whilst Angelina smiled. It was definitely a weird situation. Why the hell did I say that? What was I thinking? For a moment I was shocked and surprised, as they dashed past me I looked back and I realised there were some other tourist extremely surprised. You can see their mouth wide open and their feet stood firmly on the ground – not moving.
Suddenly it appeared to me that I should take some pictures just for recollection in the future. Why not, so far I've admired Syria. And so I ran back, making sure I don't get too near or obvious. I saw they were offered roasted peanuts as most tourist do. Brad without hesitant tried it as Angelina politely refused. They were then whisked by the bodyguard into the souq as I started to take photos from a distance. Of course shooting in low light with a point and shoot camera would never give you good results, not even on the LCD screen.
I walked fast to see where they were going. I've realised a few more tourist did the same and followed me. They were led into Khan As'ad Pasha as the doors were closed. After waiting for a few minutes, a small crowd gathered. Thinking that the khan was someone's private house, I've then decided there's no way I would catch them again. Besides, who knows there might be a backdoor. And so I continued walking around the walls of the Umayyad Mosque realising that my photos were all blurry and I've missed the chance.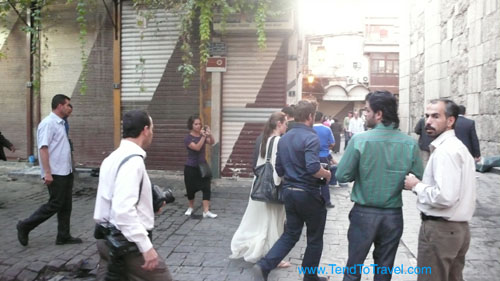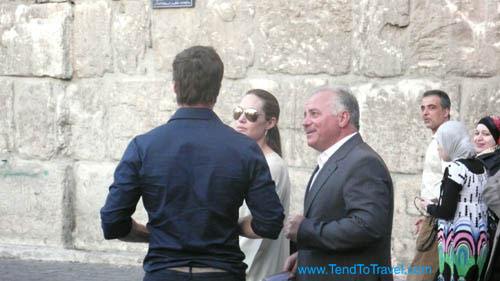 About 20 minutes later, the couple emerged from the souq again. This time I've stumbled right in front of them. Judging by their face expression, I think they weren't impressed. I saw a glimpse of that 'why the hell is this freak following us' expression. Well maybe it was just me, but I remembered clearly the change of expression when we bumped again. Anyway, by this time I quickly got my camera and snapped a few photos as they whisked past me. I followed them like a stalker until they were just outside the Mosque. They were briefed by their guide and were offered to be led into the mosque. Smartly both Brad and Angelina refused because they wanted to respect worshippers. Of course after a while, a larger crowd gathered. Angelina made the day for a local girl by taking a photo with her.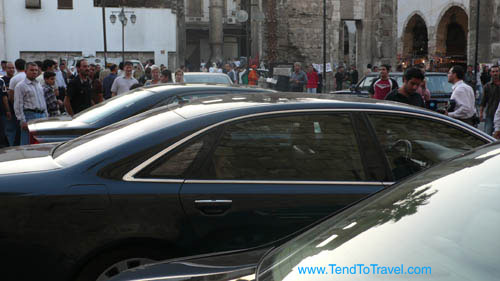 After a few minutes, they were then led into a series of black Audi's and extra security guard before leaving the grounds of the Umayyad Mosque. Fantastic! What a way to end the last evening in Damascus. I've never seen a superstar in real life before, let alone Hollywood's most famous couple. A few days later in London, I've read in the newspapers that they were on a UN mission to visit the hundreds of thousand Iraqi refugees who continue to live in Syria. Though it was a memorable experience, this story did have a moral behind it that continues to shape my travels, which I will write very soon. Stay tuned.
Have you ever had a similar experience whilst travelling? It would be great to hear from you!

Travel Related
Discovering Syria
Travel Resources