Airline Review: Etihad Airways Pearl Business Class Red Eye Flight AUH-LHR
by
Amer
on
Feb 7, 2011
•
12:30 pm
3 Comments
(by the way unfortunately this picture is not me but was taken from Etihad's website)
______________________________________________________________________________________
Abu Dhabi – London
Class: Pearl Business Class
Date: January 2011
Final Verdict:
I really enjoy flying with Etihad Airways. Being a Gold frequent flier, I've received many benefits which includes being upgraded, access to lounge, extra baggage allowance and priority check in and fast track immigration. This review focuses on my recent trip from Kuala Lumpur back to London with a stop in Abu Dhabi. Prior to the flight, I've managed to rest and relax at the Abu Dhabi Terminal 3 Lounge which apart from being very busy, it was great as usual.
This is an overnight flight (also known as a red eye flight) departing from Abu Dhabi at about 2:40am local time. As always the flight to London was full (overbooked to be exact hence for the kind upgrade!), after many Londoners choose to come back from their long Christmas break. Everything was good but I wanted to single out the service which has improved on this particular flight. The crew, I believed to be a Romanian was fantastic.
______________________________________________________________________________________
RATINGS
with 10 as maximum
overall: 9.1 of 10
at the Airport
Check-in: 10/10
Lounge: 9/10
Onboard
Aircraft: 10/10
Cabin crew: 8/10
Responding to request: 9/10
Seat Comfort: 9/10
Legroom: 8/10
IFE (InFlight Entertainment): 10/10
Food quality: 10/10
Food quantity: 10/10
Cabin cleanliness: 8/10
Amenity Kit: 8/10
______________________________________________________________________________________
Check-in: 10/10
Check-in at Kuala Lumpur was hassle free
Lounge: 9/10
The lounge at Abu Dhabi again was in great condition, though really full of people. Food served was great and I've also managed to get a shower before flying.
Aircraft: 10/10
Etihad uses a brand new A340-600 for this 7 hour trip.
Cabin crew: 8/10
Cabin crew greeted passengers onboard the aircraft. Again hot towels and juices were given before airborne. Service was great, much improved from my previous experiences. The cabin crew (I believed to be a Romanian) was professional and very helpful.
Responding to request: 9/10
After having my main meals, I've changed my mind and decided to have a dessert as well. Yes, I was a bit hungry since I've skipped dinner on the previous Kuala Lumpur-Abu Dhabi leg. The stewardess responded promptly and suggested the dessert (and coffee).
Seat Comfort: 9/10
The seating layout in Business is 1-2-1. Etihad provides an award-winning business class seats. Each seat has direct access to the aisles, has a built-in massager, turns into a fully flat-bed. Also a fleece was provided which was nice and comfortable. Again, the seats are a bit narrow.
Legroom: 9/10
Etihad provides a generous 80″ of legroom
IFE (InFlight Entertainment): 10/10
Etihad offers 10.4 inch touch screen TV using Ebox – the latest in personal inflight entertainment system. You could enjoy up to 600 hours of entertainment on demand.
76 movies
400 CD albums
14 radio channels
40 interactive games
116 TV titles
Food quality: 10/10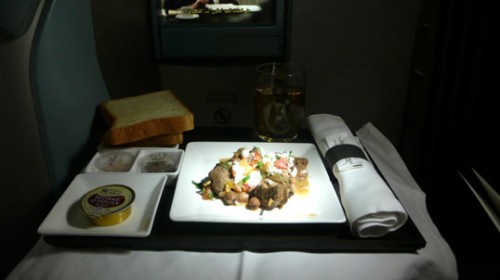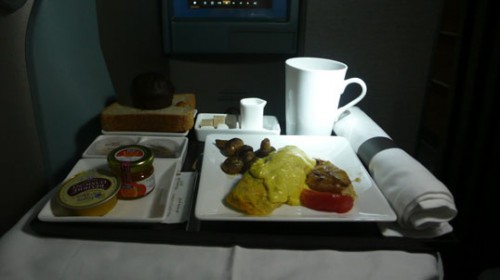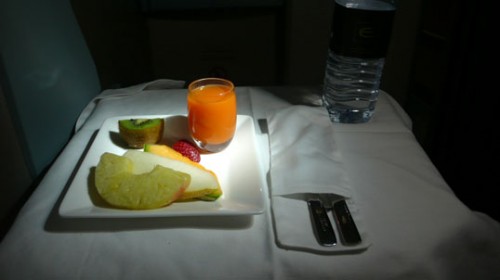 Most of the picture you'll see around my airline reviews are the food. I love Etihad's airline food. The quality is impeccable and the portion is just nice. What I liked most is the ability to choose any food and drinks at anytime during the flight. Food was served promptly since there weren't many people eating. This is what I ate:
Dinner: Foul Medames
Arabic almond dukkah lamb
Pine nut laban yoghurt
Tricolore dessert
Breakfast: Poached Salmon Omelette
Sauteed mushroom/tomato/potato gratin/hollandaise sauce
Seasonal fresh fruits
Food quantity: 10/10
Each portion of food comes in a 5 star restaurant-like portions (nice portioned just in an advert language)
Cabin cleanliness: 8/10
The cabin are kept clean throughout the 7 hour flight. Washroom was in a good condition.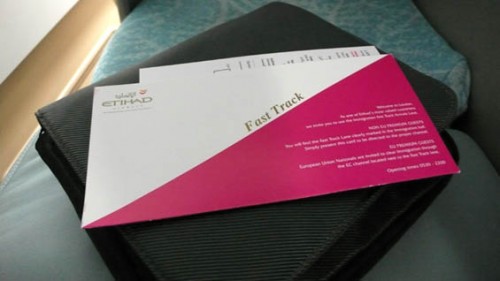 Amenity Kit: 8/10
A classy grey coloured bag was given out containing Ferragammo products plus the usual dental kit, socks, eyeshade and earplugs. Although complimentary I've found out that they've actually reused this since there were some products missing! In addition to my fast track access upon landing at London Heathrow. Thank god for this, I just hate queueing for an hour at Heathrow's Terminal 4. This is one of the reasons why I really wanted to be a Gold member with Etihad! It would be a perfect 10 if the kit was brand new.
______________________________________________________________________________________
Conclusion
This is one of the better flight I had with Etihad. The service has improved and I really enjoy flying with them. Food as usual was amazing, something I'm always looking forward to (weirdo duhh). This is no way a sponsored article. Etihad is my favourite brand. Quality and truly value for money. Thanks Etihad for making my trip enjoyable!
______________________________________________________________________________________
Related Articles
Airline Review; Etihad Diamond First Class
Airline Review; Etihad Airways Business Class – Dine Anything Anytime
Airline Review; Etihad Economy Class
______________________________________________________________________________________