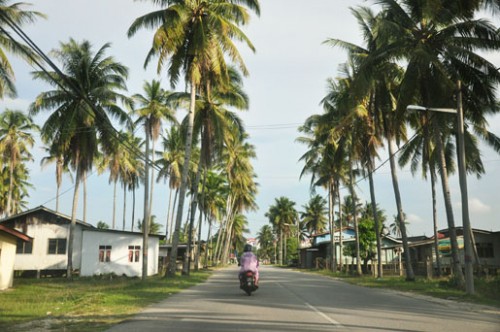 Overview
Anything can..la..This is the term used frequently by Malaysians that best describes Malaysia. A modern progressive country which believes it can do whatever it feels like doing. If you look at this picture, it is also unbelievably relaxed and casual. This atmosphere could be translated not only to the people but also to the environment.
An exciting mix of contrasting elements. From the concrete jungle of Kuala Lumpur to the 100 million year old Taman Negara rainforest. From unspoilt islands to one of Asia's most exciting island city of Penang. From smart dressed businessmen enjoying teh tarik at the hawkers to world-class restaurants in brand new malls.
Half of Malaysia is about its people. With a population of over 28 million, Malaysia is a multi-cultural society comprising mainly the Malays, Chinese, Indians and smaller groups of indigenous tribes in Sabah and Sarawak. This great mix produces a great culinary delight – the Malaysian cuisine. Arguably one of the world's most varied cuisine.
This multi-cultural environment not only embraces the wide array of festivals but also embraces differences. Naturally, English is widely spoken making it one of the easiest country you'll ever visit. Indeed it is estimated that 25 million visitors visited the country in the year 2010, nearly the size of its population.
The other half lies within its natural beauty. Though modern shopping malls have become integral to daily life, try to fit in one of the many natural wonders the country has to offer including unspoilt beaches and islands, tropical rainforest, excellent diving sites, extraordinary caves and majestic climbs.

Attractions
Kuala Lumpur (or commonly known as KL) is the capital city. With just under 2 million people, it is Malaysia's economical and financial centre. Famous for its twin towers, the Petronas Towers is a modern icon for Malaysia. Get a bird's-eye view of this fast developing city from KL Tower, one of the world's tallest.
Visit Bukit Bintang KL's main shopping artery famous for its side cafes and clubs, Chinatown for a bargain haunt before proceeding to the Islamic Art Museum near the National Mosque. Then go to Dataran Merdeka and the Sultan Abdul Samad building, KL's most beautiful moorish architecture.
2 hours from KL is Melaka. Established in the 1400′s, the Old City has been gazetted as a World Heritage Site. Start by visiting the Alieya and Farouk Khan Gallery to get a taste at the best of Malaysian contemporary art. Then soak in all the history at the nearby Stadthuys, Ruins of St Paul and Porta de Santiago.
To get the best of Malaysia's cuisine and culture, visit the island of Penang. Visit one of their many hawkers to sample arguably one of the world's best street food before taking the funicular railway to Penang Hill. Then head off for the beaches at Batu Ferringhi for some watersports.
Wander around the streets of Georgetown, the state capital of this island, also a World Heritage Site. Visit Fort Cornwallis and later catch a ferry across to the mainland to soak in the magnificent view of the island. Other attractions include Kek Lok Si Temple, Snake Temple and the Botanical Gardens.
If you can't get enough of islands then head to either Langkawi, Tioman and Perhentian in Peninsular Malaysia or scuba dive at one of the world's most magnificent site at Sipadan Island in Sabah.
Sample the simple way of life by visiting Kuala Terengganu, famed for its small fishing ports and boat making culture. Head off to Rantau Abang to watch leatherback turtles nesting. Or visit the state of Kelantan, to sample its glorious food and also to find many traditional villages and way of life that hasn't changed for a long time.
If nature is your thing, make sure to visit the world's oldest tropical rainforest in Taman Negara. A visit worth going a few times. Why not feed baby orang utan's at its sanctuary in Sepilok, Sabah?
If you need more adventure, head off to the many tribal villages in Sarawak using the only means of transport, sailing along the Rejang River. Then why not abseil the Mulu Cave the world's longest or scale the peak of Mount Kinabalu, at 4,101 metres is the highest in South East Asia.
Travel Resources
I have listed some important links that you might find useful when travelling to Malaysia. These includes information on visas, currency, getting there, getting around, accommodation and other travel related tips.
Related Articles
How much do things cost in Malaysia?
A Day in the City of Red Painted Walls – Malacca
KL's Jungle Walk
Why Islamic Art Museum is the No. 1 attraction in KL – You tell me!
If Only Libraries were like this – Jonker Street Library
Kuala Lumpur – A Vibrant Jungle Metropolis