Airline Review: Etihad's Private Suite – a Class beyond First
by
Amer
on
Dec 20, 2010
•
1:12 am
10 Comments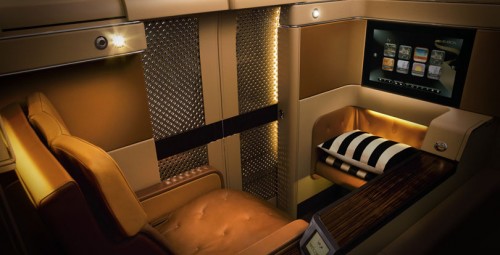 Abu Dhabi – Jakarta
Class: Diamond First Class Suite
Date: September 2010
Final Verdict:
Introducing Private Suite is a strategy airlines take to promote a class beyond First. Etihad's Diamond First Class as its officially known has been voted the World's Best in 2010 by Skytrax, the world's leading inflight research. I was lucky to be upgraded to First after the airline did a change of aircraft in the last-minute.
In terms of hardware (seats, food etc), Etihad's private suite is the epitome of flying luxury today. I love the sliding doors, the built-in wardrobe, the huge dining table, personal mini-bar, 23″ lcd screen and of course the luxurious seat – or basically everything about it. However, I was a bit disappointed with the service which was below par on this journey.
RATINGS
with 10 as maximum
overall: 9.1 of 10 (highest rating for 2010!)
at the Airport
Check-in: 9/10
Lounge: 8/10
Onboard
Aircraft: 10/10
Cabin crew: 6/10
Responding to request: 9/10
Seat Comfort: 10/10
Privacy: 10/10
Legroom: 10/10
IFE (InFlight Entertainment): 10/10
Food quality: 10/10
Food quantity: 10/10
Cabin cleanliness: 8/10
Amenity Kit: 8/10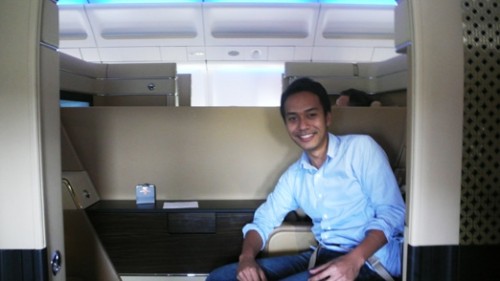 Check-in: 9/10
Check-in was hassle free
Lounge: 8/10
The lounge at Abu Dhabi offers very good facilities. Amongst them – the Six Senses Spa, Meeting Room, Business Centre, Shower facilities and a Quiet Room. However, the lounge tend to be very crowded during peak hours and definitely not enough seating. The airline serves a fantastic international buffet in the lounge. WiFi available throughout. Macs available but with slow internet connections. Restroom cleaned frequently. Great front staff , available to accommodate your needs.
Aircraft: 10/10
Etihad uses a brand new A340-600 for this 9 hour trip.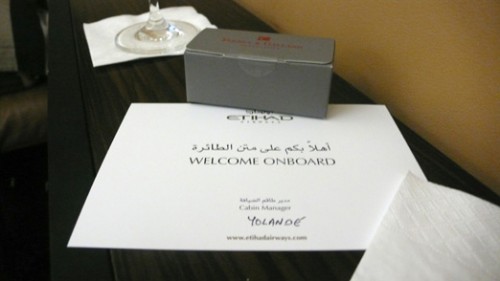 Cabin crew: 6/10
Cabin Manager introduced himself as I boarded the aircraft. Hot towels, drinks and luxury chocolates were given before airborne. I saw only 2 crew handling First Class and the crew seems hurried. One of the crew is new to First Class judging that she doesn't know exactly how to serve properly on the huge dining table. Unfortunately there's very little interaction between passenger which made the overall experience less personal. Still good, but I thought First Class passengers deserves better.
Responding to request: 9/10
The Cabin Manager responded well for my request for a hot chocolate just before snoozing off for the night.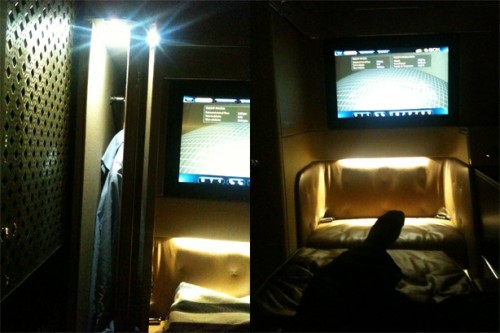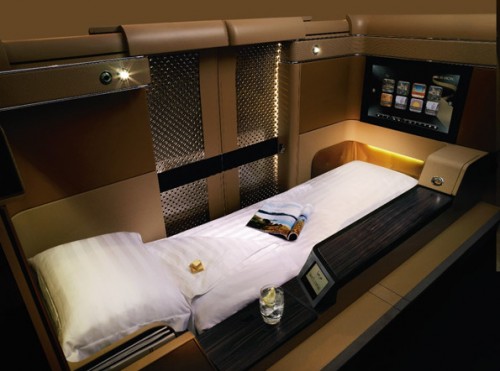 Seat Comfort: 10/10
Who can fault Etihad's First Class seats? They're the best in the industry today. Seats has been upholstered by luxury brand Poltrana Frau. The seats are huge and very comfortable. The seat turns into a 6'8″ full flat bed with excellent built-in massage. The whole suite can be controlled at a touch of a screen which is fantastic.
Privacy: 10/10
Etihad's sliding screen is the ultimate in privacy. Excellent detailing and finishing as well.
Legroom: 10/10
Etihad provides a generous 82″ of legroom
IFE (InFlight Entertainment): 10/10
Etihad offers 23 inch LCD touch screen TV using Ebox – the latest in personal inflight entertainment system. You could enjoy up to 600 hours of entertainment on demand.
76 movies
400 CD albums
14 radio channels
40 interactive games
116 TV titles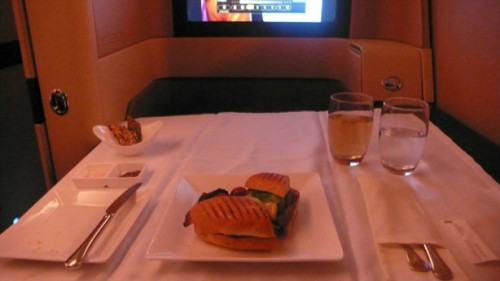 Food quality: 10/10
Etihad provides a restaurant quality food on air. The airline introduced a Food and Beverage Manager who discusses the menu with you. The dine on demand service means you can eat anything from the menu at any time of the flight. Superb Food quality.
Food quantity: 10/10
Each portion of food comes in a 5 star restaurant-like portions. You can order as much food as you want at anytime of the flight.
Cabin cleanliness: 8/10
The cabin are kept clean throughout the 9 hour flight. Washroom was in a good condition.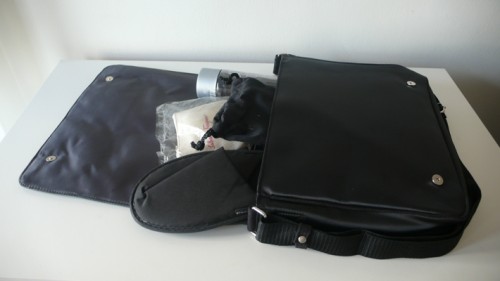 Amenity Kit: 8/10
A classy grey coloured bag was given out containing Ferragammo products plus the usual dental kit, socks, eyeshade, earplugs, slippers and Voss mineral water. The amenity bag was significantly larger than Business Class.
Conclusion
Overall, a fantastic product. It does feel luxurious flying this way! Thanks Etihad for the amazing experience!
Tags:
etihad airways a340-600
,
etihad airways abu dhabi
,
etihad airways diamond first class review
,
etihad airways review
,
etihad private suites
,
fine dining in first class
,
flying first class
,
flying first class on etihad airways
,
how is etihad airways first class suites
,
skytrax best first class award
,
the world's best first class