London is one of the most visited cities in the world. It is world reknown for its history, arts, culture, entertainment, parks, shopping and attractions.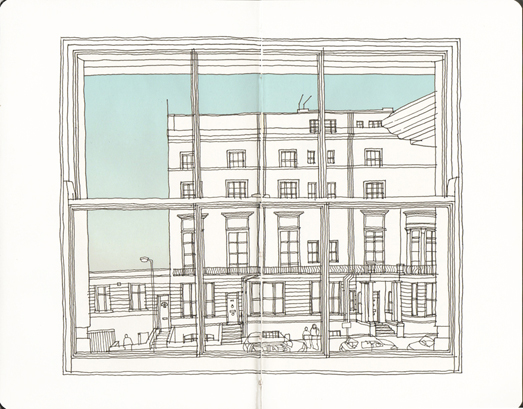 London in Sketches series is stemmed from my first sketch looking outside from my bedroom window. The journey then continues to capture some of my favourite attractions which includes iconic (and non-iconic) places. The series will be updated regularly.
1. Houses of Parliament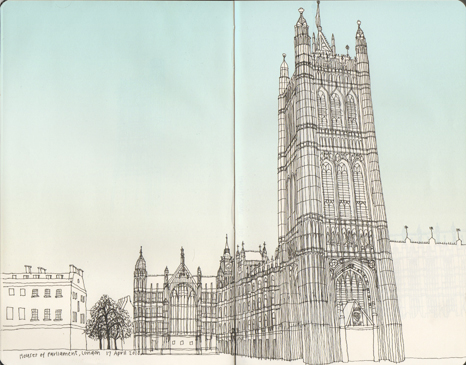 Situated by the banks of Thames River, The Houses of Parliament is the central seat of the UK government and contains the House of Lords and the House of Commons. There is a small park (Victoria Tower Gardens) besides the Houses of Parliament facing the River Thames. This is a great park to relax whilst enjoying the river view. You can also catch up with BBC's newscasters at the lawn right in front of this building.
2. Big Ben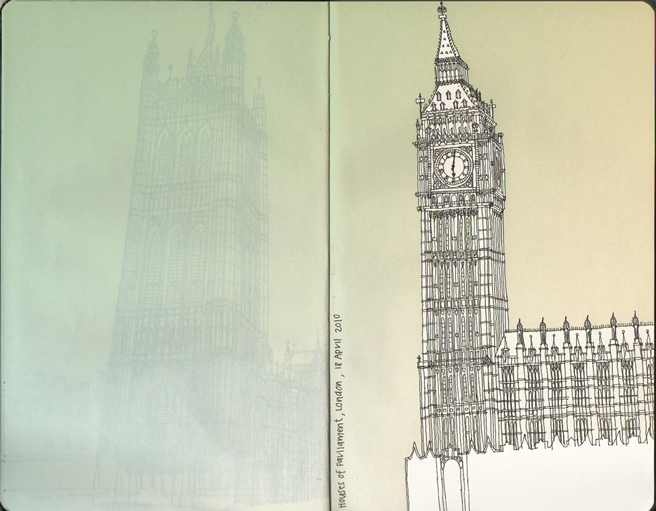 The Big Ben is London's world icon. The Big Ben name refers to the name of the main bell of the clock. It is one of London's most photographed landmark. The nearest tube station is Westminster which serves Circle, District and Jubilee lines.
3. Bayswater and the various Oriental Restaurants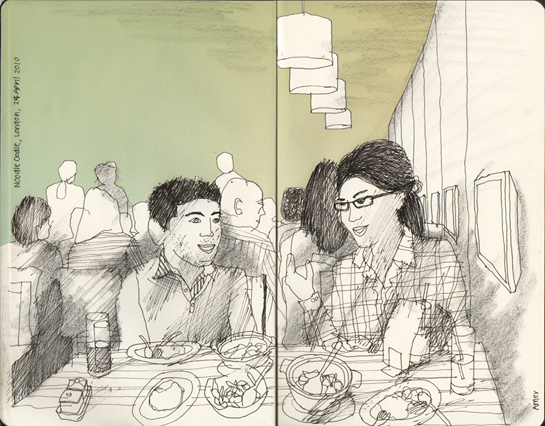 Bayswater is a famous central London neighbourhood offering great public transportation, access to Kensington Gardens, budget to medium cost hotels and London's first shopping complex in Whiteley's. It is also famous for offering a variety of good cheap food especially for Asian cuisine.
Nearest tube stations: Bayswater (District and Circle Lines)  Queensway (Central Line)
4. St James's Park  and Horse Guards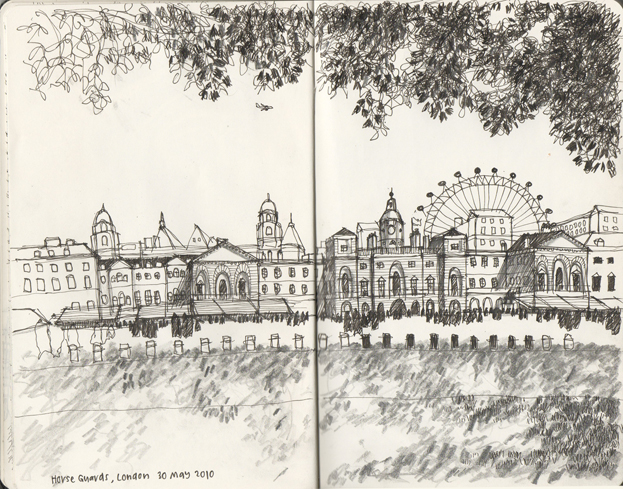 One of London's network of parks, St James's Park is well located in the heart of London's tourist attractions. It is within 5-15 minutes walking distance to Trafalgar Square, Houses of Parliament, Buckingham Palace, the Prime Minister's residence, Piccadilly Circus and Southbank amongst others.
Nearest tube station: Charing Cross (Bakerloo and Northern Lines)
5. the Admiralty Arch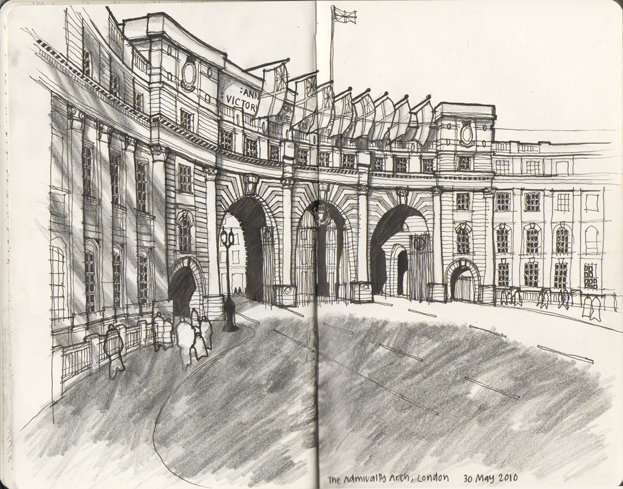 A great arch framing Pall Mall all the way to Buckingham Palace. This is actually one of my favourite buildings in London. The Admiralty arch sits next to Trafalgar Square and St James Park.
Nearest tube station: Charing Cross (Bakerloo and Northern Lines)
6. the British Museum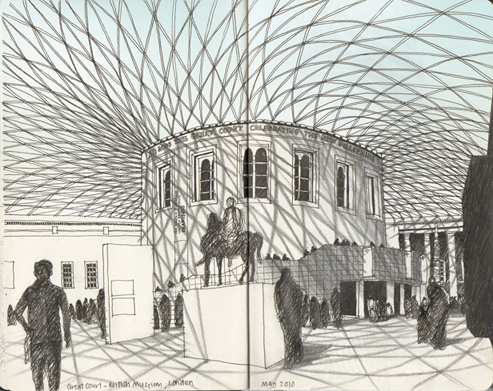 The British Museum near Russell Square has been voted as London's top attraction. Its central courtyard doubles as a place to relax and eat. The Museum is world-famous for its historical artefacts especially the Rosetta stone and the Egyptian mummies collection.
Nearest tube Stations: Russell Square (Piccadilly Line), Tottenham Court Road (Central and Northern Line) and Holborn (Central and Piccadilly Lines)
6. Tate Modern and the Millennium Bridge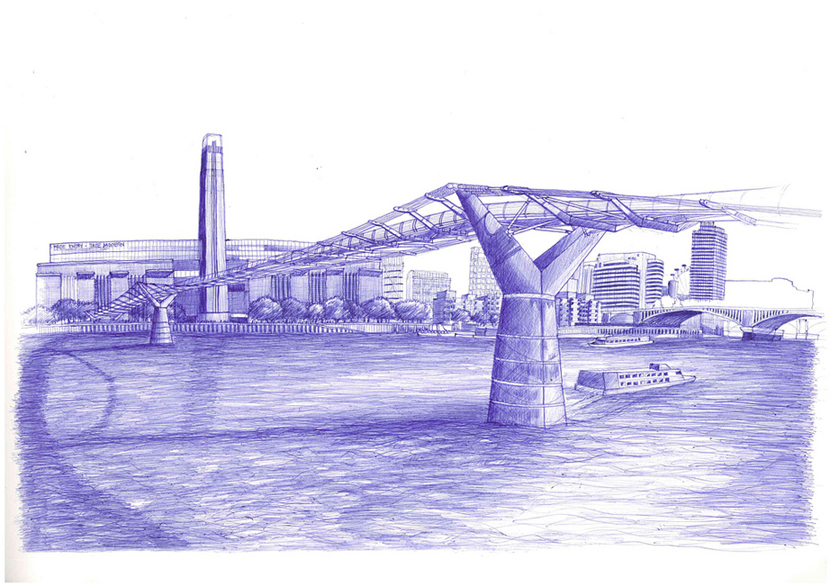 Tate Modern is one of my favourite contemporary art museums. There are several major attractions around the museum. This includes the Shakespeare Globe, Millennium Bridge (also once known as the wobbly bridge) and St Paul's cathedral.
Nearest tube station: St. Paul's (Central Line)
7. Kensington Gardens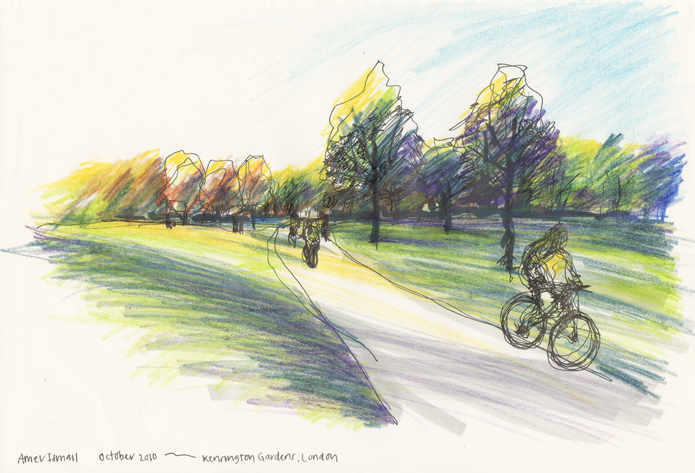 Kensington Gardens is a large London park connected with Hyde Park. This is actually a really beautiful park. I love this park partly because its less busy than Hyde Park and that its easier for me to walk there.
Nearest tube station: Lancaster Gate and Queensway (Central Line)
_____________________________________________________________________________________________________
Related Posts
Sarajevo in Sketches 
China in Sketches
Jordan in Sketches
Budapest in Sketches