Petra البتراء

Visiting Petra is the highlight of my trip to Jordan. Petra was established in the 6th BC as the capital city of the Nabataeans. It is truly an architectural gem carved out of solid rock. A series of buildings was carved to create this city. It was a little crazy to see this at first – to soak in the amount of effort, the huge scale and the intricate details they have put in to do all of this, nevertheless it is truly stunning!
There are a number of entry points into this spectacular site, but the gate at Wadi Musa is the most important. A number of hotels are situated in front of this gate, with the trendy Moevenpick Resort being the nearest. Also a good selection of café's and cheap restaurants are available.
Tickets
Tickets can be purchased at The Tourist Information Center which opens from 6am-6pm in summer and 6am-4am in winter. Prices will rise from Nov 2010 as following:
1 Day ticket – 50JD
2 Day ticket – 57JD
3 Day ticket – 60JD
Children under 15 – Free
There are souvenir shops, toilets and other facilities here. A good time to enter is between 6am-8am. Tour guide buses starts to flock from 8am to approximately 9.30am.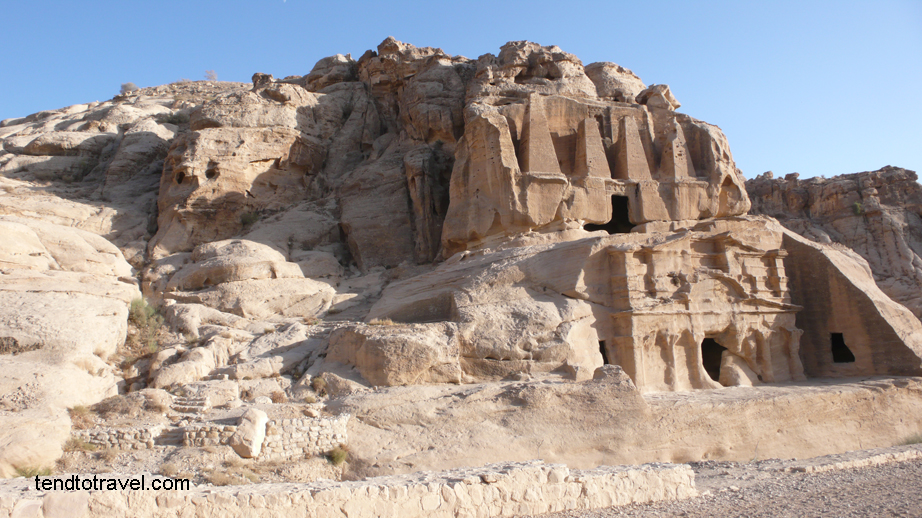 One of the monuments greeting you just after the tourist information center leading to the siq.
Petra is a huge archeological site. It is well spread out. You will need at least 2 days to just to have a good glimpse around some of the astonishing sculptures.  Well, at least that's what I did. However, there are many tourist spending the whole week to see the sights. We spend the first day trying to soak in the magnificent artefacts. We started late – at around 10am and after 2 hours, the extreme heat started to get the better of us. I managed to find a shade under the numerous rocks to do some sketches.
The Bab-as-Siq, is a mile long narrow passage and the main thoroughfare to the archeological sites. For all of you Indiana Jones fans, I'm sure you might have seen this in one of their chronicles. The view along this passage is stunning. For those who doesn't want to walk, there are donkey carriages available to hire.
At the end of this trail, is the Treasury. The Treasury was believed to be constructed in 1BC. Its original usage is unknown but most scholars predicted it was used as a temple or a royal tomb. Check out the scale of the building in relative to the people in the photo above. Now you know how big these monoliths are.
This is a major pit stop (if you're traveling during the height of summer like me when temperatures rises to 40C in midday) you'll find at the middle of the site. The tents are the only covered spaces you would find around here. The stalls sell a variety of not-so-cold but overpriced drinks and simple snacks and sandwiches.
I did manage to spend 2 hours at this particular store doing a mixture of things including sketching, reading my lonely planet and also taking a quick nap. Do bring at least 2 small bottles of mineral water for yourself and definitely some energy bars if you want to save a bit of money. There are also toilet stalls (free and paid ones) around these camps for your convenience.
Street of Facade as seen from my sketchbook
Street of Facade is one of my favourite buildings here. It depicts a city centre with gigantic doors and windows (how sad is it to relate this with my architectural background ;-p). I've also managed to sketch this view as above and at the same time managing to attract a small crowd for a while.
A Roman amphitheatre could be seen in the background. The theatre however was fenced out and therefore you could only see it from a distance.
Urn Tomb (Royal Tomb). Though situated in the main thoroughfare, this tomb is not crowded because you need to climb a flight of stairs to get there. Besides it's not as famous as the Monastery which I will explain next.
At around 4:00 pm we decided to make our way onto the mountainous terrain to reach the Monastery. To get there you have to climb at least 800 steps. Well, only 800 steps I thought..How tiring that journey was. It took us an hour to climb through the many narrow passages filled with tourists and donkeys laden with goods (and some instances tourist too..for a fee that is..). It was definitely longer than I've ever expected. I really do feel that the steps were never-ending.
Enough of my whining, the journey was truly remarkable. The views are stunning especially during evenings. If you go a bit late like us then you will find most tourist heading down rather than up. So once you're up there you kinda get the whole place to yourself.
The Monastery has a facade of 50m height x 45m width. I actually whined more about the climb than explaining about the building itself. To be honest with you I can't remember what it's for, however if you're heading to Petra, make this a priority to see. I am still recommending everyone to visit the Monastery from 5-6pm (in October) to have the place to themselves..