I've managed to do some sketches on my recent trip to China.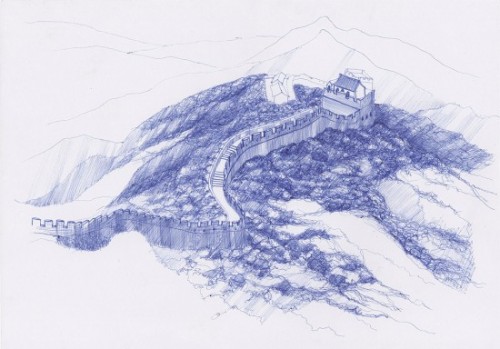 The Great Wall of China is the only place I really wanted to go. The Wall was built as a defensive structure against the Mongols. The Great Wall stretches over 8,000km long. It has however been eroded over time, and now only a few sections are open for tourist. The most famous and the busiest is the Badaling Wall section. However, our guide brought us to another less busy section which is the Juyongguan Section. We arrived there about 2 hours before closing time and fortunately, half our way up, the number of people seen could be counted. I managed to get to the top of the wall and had this opportunity to sketch this marvelous view. Again, a small Chinese crowd gathered and weirdly pictures were taken.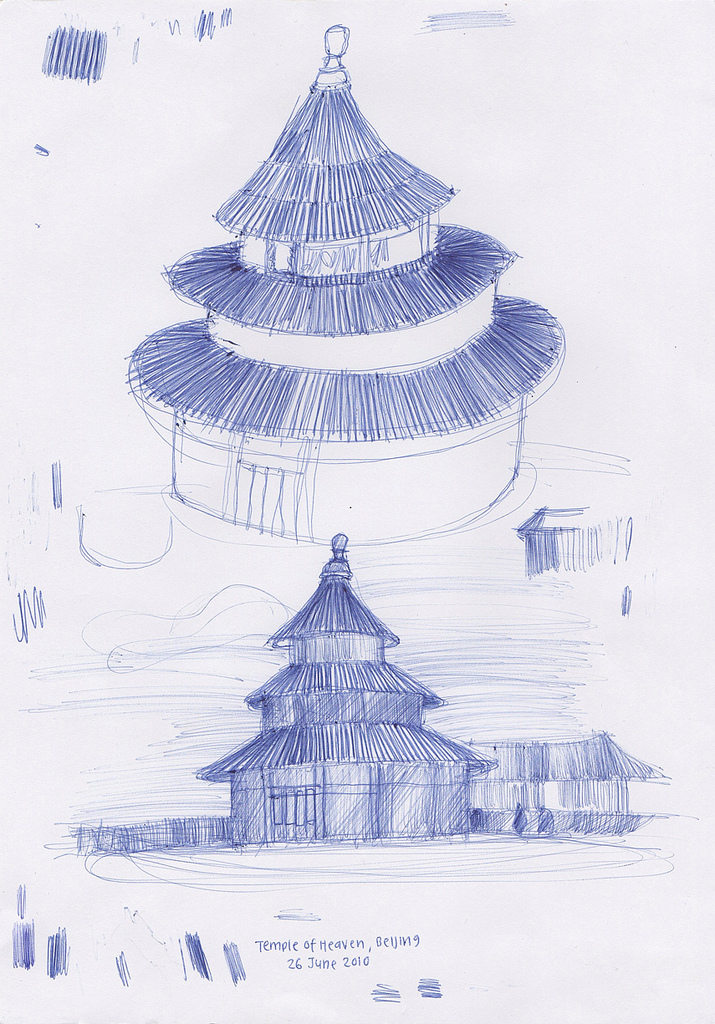 I went straight to the beautiful Temple of Heaven on my first day in Beijing. The Temple of Heaven also known as Tian Tan was completed during the Ming Dynasty. The temple was built so that the Emperor could make sacrifices and pray to his ancestors. The Temple is a huge complex. The Qinian Dian (as sketched above) or the Hall of prayer for Good Harvest is the iconic symbol. It's definitely one of my favourite buildings in Beijing. I would easily go here twice if I could.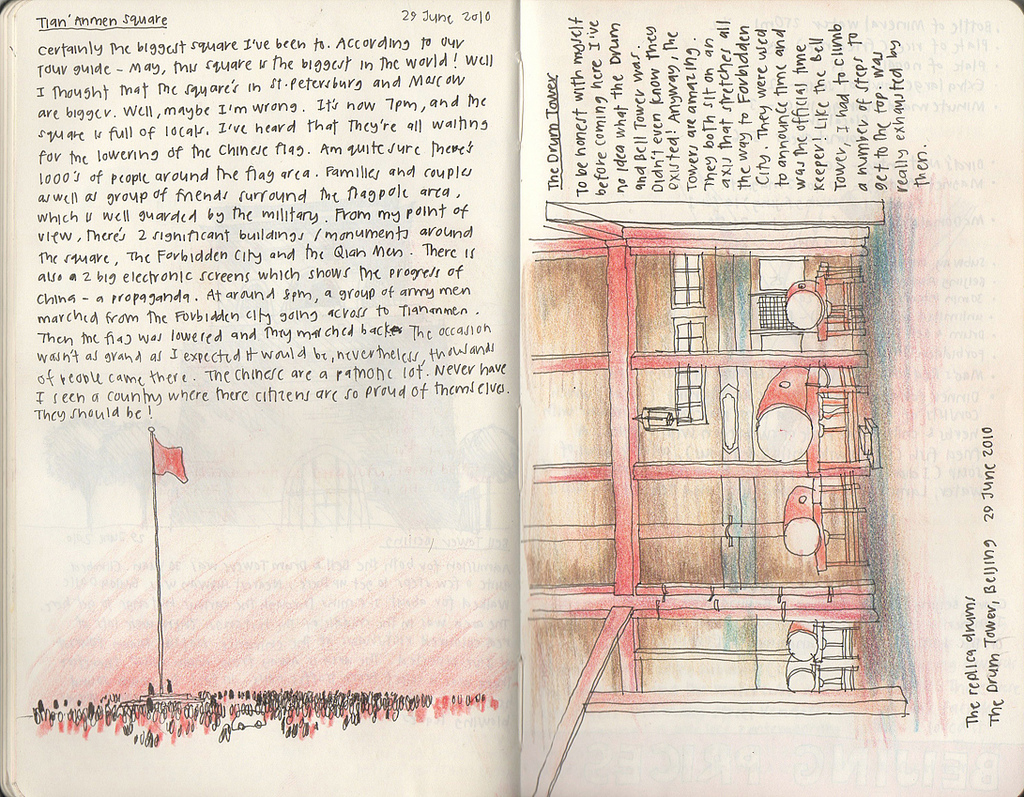 Tiananmen Square is amazing. The square gives the impression of China's strength and power. At 440,000m2 (36 times bigger than London's Trafalgar Square) the square is the biggest in the world. I came here a few times. I've managed to sketch this image just before the lowering down of the flag ceremony, where thousands of Chinese local attended to honour their flag.
I was captivated the first time I passed the Drum and Bell Towers. The architecture is magnificent. I drew this sketch in the Drum Tower. The drums were used to mark the hours of the day. Unlike any other Beijing's major attractions, the towers is located in the middle of a hutong.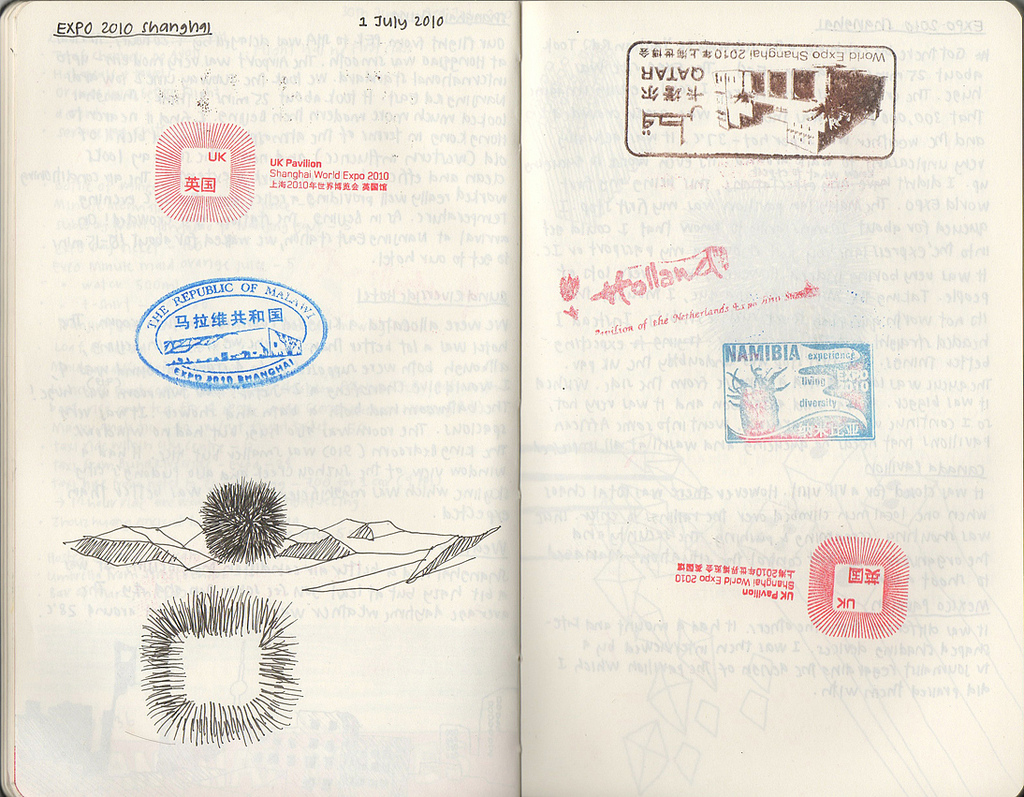 I actually loved the idea of this passport stamps obtainable from many of the pavilions at the World Expo. However, there were long queues to obtained these stamps. I've also bought myself an Expo passport with more stamps in it!
Compared to Beijing, prices in Shanghai is a bit more expensive. Shanghai is China's economic and financial centre. Below is a list of some of the items prices:
Bottle of water 1.5L – 4Yuan
Minute Maid 1.25L Orange Juice – 8Y
Subway from Hongqiao Airport to Nanjing East – 5Y
World EXPO Day Ticket obtainable from hotels etc – 160Y
Loaf of Bread – 7-10Y
Lunch for 4 somewhere in Nanjing Road – 140Y
Maglev ticket prices – 40Yuan with airline ticket, 50Y without
Taxi ride within city centre – 12 Y
Umbrella from Street Vendor – 10Y
Bar of Mars or Snickers – 6-7Y
_____________________________________________________________________________________________________
Related Posts
Sarajevo in Sketches 
Visiting London in Sketches
Jordan in Sketches
Budapest in Sketches